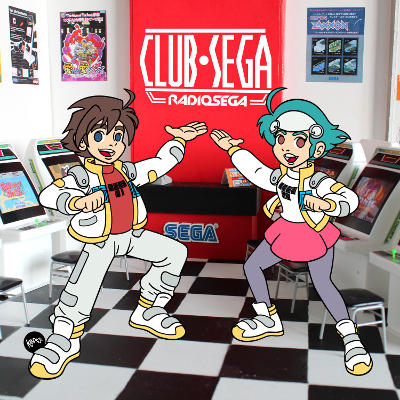 ---
ClubSEGA - Field Trip Month
Time to mix things up!
Announcing a special run of Club SEGA shows to lead us up to the new year as we leave the confines of the Arcade and go on a SEGA field trip (metaphorically of course, we are staying inside and staying safe in real life)
That's right for the next 4 episodes we will be seeing the sites (and of course sounds) of the entire extended SEGA universe (ESU) as we wonder about and see what catches our eye. This week we are talking about Guilty Gear XX: Accent Core Plus R and the renaissance it is currently experiencing as the online netcode has been improved as well as much more. ClubSEGA has been on the RadioSEGA airwaves since March and taking inspiration from Guilty Gear it's time to mix things up. Keep in mind that all tracks are now available to request from the RadioSEGA library so if you do want to request; why not include a message to why you've picked that particular song.
If you'd like to request anything please get in touch using the links below:
Also if you would like to catch up on any episodes that you might have missed then you can do so here:
When requesting via twitter please use the hashtag #ClubSEGA
So time to pack some lunch and get ready to explore! ClubSEGA Wednesdays, at 8pm GMT or CEST/3pm EDT/12pm PDT,
25th November, 2020 - 14:41 GMT
i need fruit
Article viewed 152 times
Comments:
There are no comments for this article.
You need to be logged in to post a comment.
Please login using the boxes at the top of the page.




Requests between 11th Jan and 17th Jan







Replies: 167

Replies: 39

Replies: 3

Replies: 4

Replies: 4

http://www.segadriven.com/
http://www.lastminutecontinue.com/
http://www.sonicstadium.org/
http://www.summerofsonic.com/
http://outrun86.wordpress.com/
https://kngi.org/
https://eccothedolphin.net/
http://16bap.theclassicgamer.net
http://www.sega-addicts.com
http://soniccagedome.net/
http://twitch.tv/thecorndogbandit
http://www.thedreamcastjunkyard.co.uk/
http://yakuzafan.com/
http://puyonexus.com/
http://segabits.com/
https://www.youtube.com/c/NintendoLounge
https://dreamcastyears.co.uk/