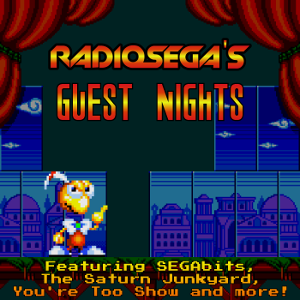 ---
November 19th Schedule
Here's what's coming up on tonight's Guest Night!
Welcome to the first blog for RadioSEGA's Guest Nights! As pointed out by quite a few of you, it probably makes sense to actually tell you what we're airing before we air it, so that's what we're going to be doing in these blog posts.
Before we get in too deep though, I should say that there will be no in-between segments on tonight's show once again. This is due to two factors: One of the podcasts not getting back to me about airing an episode tonight and also me having a busy weekend. Recording and editing the in-between segements takes me about an hour and a half, and I've only just found out tonight's schedule, so I simply don't have enough time to get them ready. Considering next week's schedule is pretty much in stone, they should be back next week.
As for which episodes you'll be seeing this week...

Podcast #1 - SEGAbits Swingin' Report Show

Episode #93: Tanglewood Creator Matt Phillips – Indie SEGA Genesis/Mega Drive Game

Description: "On this SEGAbits Swingin' Report Show podcast Barry is joined by Aki-At, developer of indie game Brock Crocodile, site contributor and one of the original three Swingin' Report Show hosts, to interview Matt Phillips the creator of the Mega Drive/Genesis indie game Tanglewood. Matt's past experience includes work at Traveller's Tales, Crytek and Deep Silver Dambuster Studios. Learn how Tanglewood came about and how one goes about making a new game on 30 year old hardware."

Podcast #2 - The Dreamcast Junkyard Dreampod

Episode 63
Description: "Episode 63 of the DreamPod is here! This episode sees two new hosts - Lewis and Mark - join your regular hosts Tom, Ross, Ross's squeaky chair, Mike and James. The team cover a range of topics emerging from the booming Dreamcast scene; including the replacement console shells coming from TR Fight Stick and Beharbros, Segagaga's strange commentary from the past on 'crunch' in the gaming industry, the DCHDMI internal mod, the recently launched European and UK Sega Shops and official Dreamcast merchandise. Other topics include a discussion on the upcoming Japanese Sega Dreamcast Guidebook, PLAY Expo Blackpool, and a look at the Official UK Dreamcast Magazine from November 2000. This is DreamPod 63, and we hope you enjoy it!"

Podcast #3 - You're Too Show
017: A Grownup Game For Adults w/ merritt k (Shadow the Hedgehog, 2005)
Description: "Special guest merritt k joins us to talk about the game where Sonic finally does a swear: Shadow the Hedgehog. This whole episode is rated NSFW10+, which means it's not safe for work, especially if you're older than ten."
That's all the podcasts we've got coming up this week. Grab your drinks and snacks, as the doors to this week's Guest Night open at 7PM GMT, 8PM CET, 2PM EST and 11AM PST!
19th November, 2018 - 19:18 GMT
GreenViper8
Article viewed 248 times
There are no comments for this article.
You need to be logged in to post a comment.
Please login using the boxes at the top of the page.