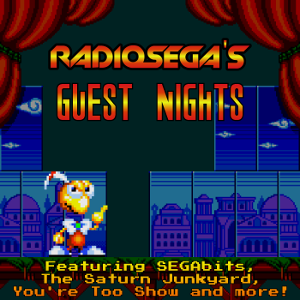 ---
November 26th Schedule
What could possibly be coming up on the final November edition of Guest Nights?
Welcome back to our Guest Night blog, and if you're reading this on the date in the article title, you're more than likely prepping yourself for this week's episode. As always, we've got 3 brilliant shows brought to you by the community, so grab a snack, sit back and enjoy the podcasts!
For the past few days, I've been hit with a cold, so there will be no in-betweens.... from me. Don't think I'd leave you without this week after promising you that they'd return. Tune in to find out who our guest announcer is this week!
As for the podcasts themselves, read what we'll be airing down below:
Podcast #1 - SEGA Talk
Episode 10: Jet Set Radio (2000)
Description: "This is DJ Professor K, baby, the master of mayhem you know what i'm sayin' bringing you another Tokyo underground pirate SEGA Talk radio broadcast from Jet Set Radio! On this nitro driven episode we discuss the creation of Jet Set Radio, the game's iconic soundtrack, regional changes, and a whole lot more. Shake your spray cans, tighten up your skates because we are diving into Jet Set Radio and never leaving Tokyo-to! Calling all GG's!"
Podcast #2 - The Saturn Junkyard Titancast
Episode 1 - Introductions
Description: "For the first time in the history of the Junkyard, mountains have been moved! By that, we mean that three of us got together and recorded a podcast. In this first, we discuss what brought us to our beloved Saturn, how it fell from favor, and eventually how the beast has returned. What impact has the Saturn had on the three of us, and what scale of an impact will this renewed interest in her bring to the Saturn retro community? If you'd like to hear more from the TitanCast, hit that like button, subscribe, and drop us a comment. Most important, keep coming back for more. Contributors: Fatherkrishna: Simon The Southern Sega Gentleman: Samuel The Vitua Schlub: Brian"
Podcast #3 - Retro Game Guys
Episode 7 - Streets of Rage (or Wrong Version)
Description: "It's time to Rage! Join the guys as they discuss the classic beat 'em up Streets of Rage (Sega Genesis, 1991). Learn what game went head-to-head with Streets of Rage on home consoles, who composed the outstanding music, and which Retro Game Guy got a (first ever) disqualification in our score competition!"
That's all the podcasts we've got coming up this week. Have your tickets ready, as the doors to this week's Guest Night open at 7PM GMT, 8PM CET, 2PM EST and 11AM PST!
26th November, 2018 - 19:21 GMT
GreenViper8
Article viewed 221 times
There are no comments for this article.
You need to be logged in to post a comment.
Please login using the boxes at the top of the page.