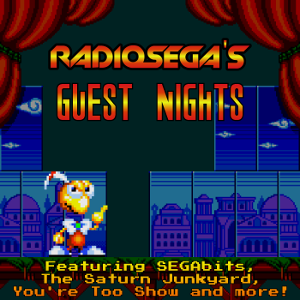 ---
February 4th Schedule
A new episode brings a new blogpost. Man it's been a while.
Our first Guest Night of February is just around the corner, so I'm sure you're wanting to know what your ears will be indulging in tonight? Well it's my job to tell you, so might as well get it over and done with.
Here's the podcasts you'll be hearing tonight:
Podcast #1 - Yakuza Fan Podcast
Episode 26: PSVR
Podcast #2: The Saturn Junkyard Titancast
Episode 20: The Future of Saturn Remakes
Podcast #3: Retro Game Guys
Interview with Tim Gadler, Former SEGA Game Counselor
That's all the podcasts we've got coming up this week. Have your tickets ready, as the doors to this week's Guest Night open at 7PM GMT, 8PM CET, 2PM EST and 11AM PST!
4th February, 2019 - 19:39 GMT
GreenViper8
Article viewed 459 times
Comments:
There are no comments for this article.
You need to be logged in to post a comment.
Please login using the boxes at the top of the page.




Requests between 29th Jun and 5th Jul







Replies: 629

Replies: 843

Replies: 7

Replies: 69

Replies: 1535

http://www.segadriven.com/
http://www.lastminutecontinue.com/
http://www.sonicstadium.org/
http://www.summerofsonic.com/
http://outrun86.wordpress.com/
https://www.facebook.com/groups/soniclondon/
https://eccothedolphin.net/
http://16bap.theclassicgamer.net
http://www.sega-addicts.com
http://soniccagedome.net/
http://twitch.tv/thecorndogbandit
http://www.thedreamcastjunkyard.co.uk/
http://yakuzafan.com/
http://puyonexus.com/
http://segabits.com/
https://www.youtube.com/c/NintendoLounge
https://kngi.org/