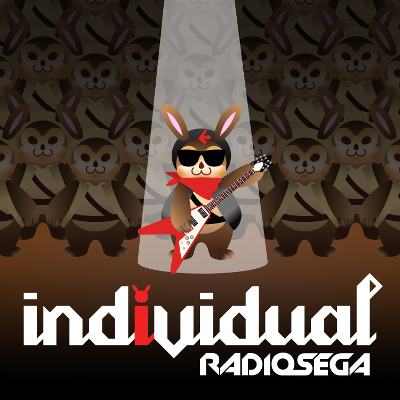 ---
And the Rasta Guy
We've done the McDonalds promotion now, but there's still the rest of the show to deliver! This "Sonic & Knuckles" episode of the Sonic 3 & K episodes will be about all the Japanese developers involved with the game, not just the musicians (although they get special treatment). Will my other interests in developers show through?

This post is all about the next episode of Individual, with game examples, request advice, sources to learn about more eligible works, and a couple times the show will be going LiVE.
I had plans to do a Halloween episode for November 1st (subversion), but instead, Sonic the Hedgehog 3 needs a sequel: Sonic & Knuckles. Except, it's not really a sequel, it's a lot of unused content, polished up. So, some of the stuff I was working on for the original Jamie-requested episode will show up here. Listen to me talk about, and hear music related to, the programmers, artists, director and producers of S3&K; the SEGA Sound Team members involved; CUBE Corp; USP (the arrangers behind Sonic & Knuckles Collection)
If you need an explanation of what Individiual is: It's an (adjective) show in which we take the time to discuss the histories and sounds of SEGA Sound Designers (or at least the composers with substantial ties to SEGA). We'll be playing music, digging up old interviews and news articles, spouting a lot of developer-related trivia and maybe talk about some video games I dunno.
If you want to send in your requests, you can do so! I've got enough space for about 6 of them (arbitrary number). Feel free to request any song the game, a remix of the game's music or any work related to the developers of the game. You can send me your requests via Discord (I'll be listed in RadioSEGA's Discord) or X (this is me). I'll be recording the episode on Tuesday, so please send in your requests before then.
If you're not sure what songs are eligible and don't mind mild spoilers, feel free to check out these

Sonic & Knuckles - Sonic Retro
and many many more!
Most importantly...
If you're wondering when this show airs, it's on Wednesdays (this time the 1st) and airs at:
6:00 PM - United Kingdom Time (most RadioSEGA folks)
7:00 PM - Central European Time (some others) (me, I'm living in 7:00 PM territory)
and lasts for somewhere around 1 to 2 hours!
(note that start times might change if, due to loadshedding in South Africa, it turns out I won't have power during planned showtime)
For those in the ever-growing future, this week's episode was about Sonic the Hedgehog 3
Download the podcast or search for it on various podcasting platforms!
Get a look at the trivia excerpts we did for an idea of the show!
1 https://twitter.com/RadioSEGA/status/1717936694027264332
2 https://twitter.com/RadioSEGA/status/1717939210852991043
3 https://twitter.com/RadioSEGA/status/1717941730610475139
4 https://twitter.com/RadioSEGA/status/1717944243761651859
5 https://twitter.com/RadioSEGA/status/1717946760461508943
6 https://twitter.com/RadioSEGA/status/1717949283683414227
7 https://twitter.com/RadioSEGA/status/1717953051938754862
8 https://twitter.com/RadioSEGA/status/1717956828137754831
9 https://twitter.com/RadioSEGA/status/1717960601585291709
There are no comments for this article.
You need to be logged in to post a comment.
Please login using the boxes at the top of the page.