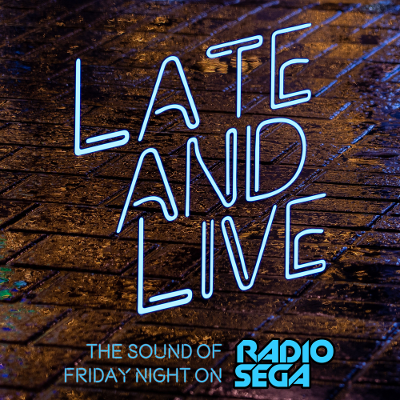 ---
For when you just want to hear a bit of everything... (requests are now closed)
After our awesome Streets of Rave Mix episode, we're kicking back this week with a regular Late and Live Mix where we'll be playing a load of different tunes to kick start your weekend.
Our Late and Live Mixes are great as you never know what sort of tracks you're going to hear - as long as they're SEGA and as long as they're uptempto, you could hear them on Late and Live!
UPDATE: Requests are now closed - thanks to everyone to sent their requests in!
With that in mind I've got a selection of tunes ready to play on the show for you (including even more Streets of Rage music!) but if you've got a track (or two) you'd like to hear then get your requests into me via one of the following methods:
Discord: Send me a private message on our Discord - I'm ResidentSD. (goto http://radiose.ga/discord to join!)
Twitter: send me a tweet or direct message - I'm ResidentSD
E-mail: send an email to residentsd [at] radiosega [dot] net

So join me this Friday for a whole load of tunes from across the SEGA soundscape - we're live from from 10pm BST/UK time (11pm CET/5pm ET/2pm PT/21:00 GMT) after GreenViper8's special edition of The SEGA Mix!

Missed the last episode of Late and Live? Download or stream our Streets of Rave Mix and every episode here or on Spotify!
Download - https://www.radiosega.net/media/?show=Late%20and%20Live

Listen on Spotify - https://open.spotify.com/show/2vR3rQ2g0Ry6FTJ8YsTIwx
2nd May, 2020 - 17:28 GMT
ResidentSD
Article viewed 245 times
Comments:
There are no comments for this article.
You need to be logged in to post a comment.
Please login using the boxes at the top of the page.




Requests between 14th Sep and 20th Sep







Replies: 71

Replies: 151

Replies: 2

Replies: 39

Replies: 634

http://www.segadriven.com/
http://www.lastminutecontinue.com/
http://www.sonicstadium.org/
http://www.summerofsonic.com/
http://outrun86.wordpress.com/
https://kngi.org/
https://eccothedolphin.net/
http://16bap.theclassicgamer.net
http://www.sega-addicts.com
http://soniccagedome.net/
http://twitch.tv/thecorndogbandit
http://www.thedreamcastjunkyard.co.uk/
http://yakuzafan.com/
http://puyonexus.com/
http://segabits.com/
https://www.youtube.com/c/NintendoLounge