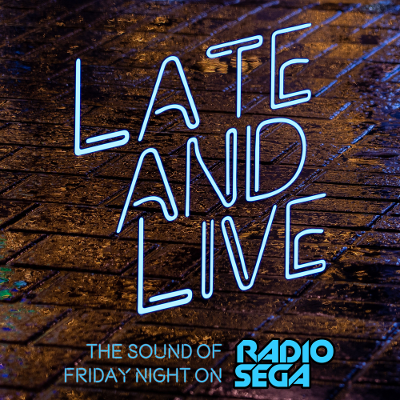 ---
Kicking off July with the return of the Rap and Hip Hop Mix!
So I have to start this blog post with some bad and good news. The bad news - Rexy won't be hosting Late and Live again this week. (I know! I know! I'm sorry) The good news - to celebrate July 4th weekend in the US we're bringing back a classic theme from our past!
Yes, firstly it would be remiss if I didn't give a massive thanks to Rexy for the superb job she did presenting Late and Live last time out. If you loved her but have never listened to SEGA Mixer Drive before, now you know what you're missing! Make sure you tune in to her final show before SEGA Mixer Drive goes on it's mid-season break - she's live from 8pm UK time on Sunday 5th July.
Back to our next episode of Late and Live though! To celebrate the continuation of Late and Live Season 3 beyond its initial 13 episode run, we're going back to a theme that has gone down in Late and Live history as our most loved episode. That's right - to celebrate July 4th weekend the Rap and Hip Hop Mix returns as Late and Live plays 60 minutes of awesome SEGA rap and hip hop vibes.
I've got a ton of awesome tunes I want to play for you and a consequence of this is that I'm adding some additional limits to requests on this weeks show. Unlike normal, I'm limiting you to just one request and tracks I played on the first Rap and Hip Hop Mix are not allowed I'm afraid (although rap and hip hop tracks played on other episodes of Late and Live are just fine!)
So check out the tracks we played on the first show here and then send your requests to me via the following methods:
Discord: Send me a private message on our Discord - I'm ResidentSD. (goto http://radiose.ga/discord to join!)
Twitter: send me a tweet or direct message - I'm ResidentSD
E-mail: send an email to residentsd [at] radiosega [dot] net

So kick off the first of five awesome Late and Live mixes as a show classic theme returns - the Rap and Hip Hop mix is live this Friday night from 10pm BST/UK time (11pm CET/5pm ET/2pm PT/21:00 GMT) only here on RadioSEGA!
Missed the last episode of Late and Live? Download or stream Rexy's Takenobu Mitsuyoshi Mix and every episode here or on Spotify!
Download - https://www.radiosega.net/media/?show=Late%20and%20Live

Listen on Spotify - https://open.spotify.com/show/2vR3rQ2g0Ry6FTJ8YsTIwx
27th June, 2020 - 01:20 GMT
ResidentSD
Article viewed 155 times
Comments:
There are no comments for this article.
You need to be logged in to post a comment.
Please login using the boxes at the top of the page.




Requests between 29th Jun and 5th Jul







Replies: 629

Replies: 843

Replies: 7

Replies: 69

Replies: 1535

http://www.segadriven.com/
http://www.lastminutecontinue.com/
http://www.sonicstadium.org/
http://www.summerofsonic.com/
http://outrun86.wordpress.com/
https://www.facebook.com/groups/soniclondon/
https://eccothedolphin.net/
http://16bap.theclassicgamer.net
http://www.sega-addicts.com
http://soniccagedome.net/
http://twitch.tv/thecorndogbandit
http://www.thedreamcastjunkyard.co.uk/
http://yakuzafan.com/
http://puyonexus.com/
http://segabits.com/
https://www.youtube.com/c/NintendoLounge
https://kngi.org/