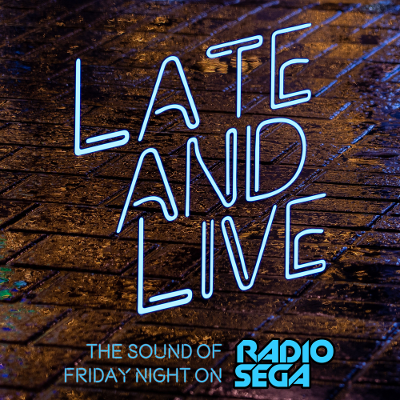 ---
A mix without restrictions this Friday night! (requests are now closed)
Late and Live is known for its themed mixes and we've had three awesome ones over the last three weeks. But while it's fantastic to dedicate the sound of Friday night to a specific game, genre or composer, sometimes it's nice to play fast and loose too and just play anything uptempo from across the SEGA-verse!
We call these Late and Live mixes (because I couldn't come up with a better name that just naming them after the show!) and they are always an awesome mix of party tunes from the greatest SEGA games, the best remix albums and the finest producers from the community.
UPDATE: Requests are now closed - thanks to everyone to sent their requests in!
And Late and Live mixes also include some fantastic requests from our listeners - yes you! Got a track or two you want to hear on the show? Get your requests in to me via one of the following methods:
Discord: Send me a private message on our Discord - I'm ResidentSD. (goto http://radiose.ga/discord to join!)
Twitter: send me a tweet or direct message - I'm ResidentSD
E-mail: send an email to residentsd [at] radiosega [dot] net

So kick off your weekend with an awesome mix of the best SEGA party tunes - July's Late and Live Mix is live this Friday night from 10pm BST/UK time (11pm CET/5pm ET/2pm PT/21:00 GMT) only here on RadioSEGA!
Missed the last episode of Late and Live? Download or stream the Dance Mix and every episode here or on Spotify!
Download - https://www.radiosega.net/media/?show=Late%20and%20Live

Listen on Spotify - https://open.spotify.com/show/2vR3rQ2g0Ry6FTJ8YsTIwx
12th July, 2020 - 15:01 GMT
ResidentSD
Article viewed 135 times
Comments:
There are no comments for this article.
You need to be logged in to post a comment.
Please login using the boxes at the top of the page.




Requests between 27th Jul and 2nd Aug







Replies: 140

Replies: 629

Replies: 843

Replies: 7

Replies: 69

http://www.segadriven.com/
http://www.lastminutecontinue.com/
http://www.sonicstadium.org/
http://www.summerofsonic.com/
http://outrun86.wordpress.com/
https://www.facebook.com/groups/soniclondon/
https://eccothedolphin.net/
http://16bap.theclassicgamer.net
http://www.sega-addicts.com
http://soniccagedome.net/
http://twitch.tv/thecorndogbandit
http://www.thedreamcastjunkyard.co.uk/
http://yakuzafan.com/
http://puyonexus.com/
http://segabits.com/
https://www.youtube.com/c/NintendoLounge
https://kngi.org/