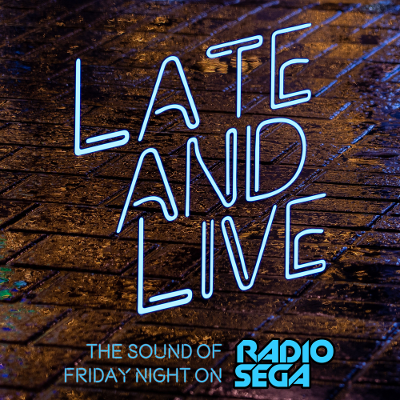 ---
Presenting Late and Live's first trip through the AGES!
11 weeks ago I mixed up the DJ Mix by visiting a show from my past as I presented The Mini SEGA Mix. Well, this time I'm going even further back - back to the very beginning of RadioSEGA LiVE! as I present the first of two SEGA Through The AGES Mixes!
For those of you who've only started listening to RadioSEGA over the last few years, SEGA AGES used to celebrate the history of SEGA gaming music live every Friday night by showcasing either a band, composer or other theme, or a particular year in SEGA gaming history. And it's that second thing we'll be focusing on as part of this week's SEGA Through The AGES Mix Part 1 as I'll be playing a single track from SEGA games released each year from 1985 to 1999 - that is as long as they were played in the corresponding episode of SEGA AGES Season 1! (or Season 2 in the case of 1999 as I didn't get around to it...) Even better, like The SEGA Mix it'll be a non-stop 60 minute music mix so the classics will keep on coming!
As it's a DJ Mix there aren't any requests but it should still be a fantastic look back at the history of SEGA games released in the 20th century as viewed through the eyes of the original RadioSEGA LiVE show.
So join me for the 3rd DJ Mix of the season as we go back through the AGES. Stay tuned after Pick N' Mix as Late and Live's SEGA Through The AGES Mix Part 1 is L!VE this Friday night from 10pm BST/UK time (11pm CET/5pm ET/2pm PT/21:00 GMT) only here on RadioSEGA!
Missed the last episode of Late and Live? Download or stream August's Late and Live Mix and every episode here, on Spotify or on Apple Podcasts!
Download - https://www.radiosega.net/media/?show=Late%20and%20Live

Listen on Spotify - https://open.spotify.com/show/2vR3rQ2g0Ry6FTJ8YsTIwx
Listen on Apple Podcasts - https://podcasts.apple.com/podcast/late-and-live/id1502182355
16th August, 2020 - 22:30 GMT
ResidentSD
Article viewed 145 times
Comments:
There are no comments for this article.
You need to be logged in to post a comment.
Please login using the boxes at the top of the page.




Requests between 14th Sep and 20th Sep







Replies: 72

Replies: 151

Replies: 2

Replies: 39

Replies: 634

http://www.segadriven.com/
http://www.lastminutecontinue.com/
http://www.sonicstadium.org/
http://www.summerofsonic.com/
http://outrun86.wordpress.com/
https://kngi.org/
https://eccothedolphin.net/
http://16bap.theclassicgamer.net
http://www.sega-addicts.com
http://soniccagedome.net/
http://twitch.tv/thecorndogbandit
http://www.thedreamcastjunkyard.co.uk/
http://yakuzafan.com/
http://puyonexus.com/
http://segabits.com/
https://www.youtube.com/c/NintendoLounge