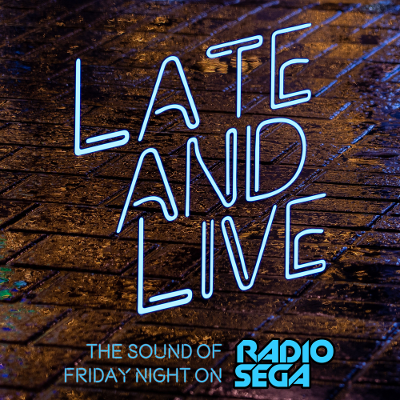 ---
Get ready to rock and more this October! (requests are now closed)
It's almost October (I know right?! How did that happen?) and the penultimate month of Late and Live Season 3. But there's no need to be sad as we've still got loads of fantastic episodes to come over the next nine weeks starting with the return of an old favourite.
During the first four months of Late and Live Season 1 back in 2012 we did two Rock Mix episodes so it seems mad that we've waited six months to do our first of season 3! However many SEGA soundtracks are known for their rock tunes and you won't have to listen to SEGA Mixer Drive long to hear awesome rock arragements either so you can pretty much guarantee it'll be another awesome episode of Late and Live this week.
UPDATE: Requests are now closed - thanks to everyone who sent their requests in!
But have you got a rock favourite or two you'd like to request? Request spots are already limited so act fast and get your request in to me via one of the following methods:
Discord: Send me a private message on our Discord - I'm ResidentSD. (goto http://radiose.ga/discord to join!)
Twitter: send me a tweet or direct message - I'm ResidentSD
E-mail: send an email to residentsd [at] radiosega [dot] net
But this is just the first of five awesome episodes of Late and Live to come this October. Here's what else is coming throughout this month!
Friday 9th October - Late and Live Mix

Our regular monthly show of the best SEGA party tunes, remixes, playlist additions, new releases and more!
Friday 16th October - Driving Mix

You know how I said SEGA is known for awesome rock tunes? Well do you know what else they are known for? Kick ass driving game soundtracks! Not only that but the community love to arrange them too so this is an episode of Late and Live that should have no problem getting to top gear... and staying there!
Friday 23rd October - Listener Mix

"Wait - it's not the final Friday but it's a Listener Mix? Have you lost your mind?" It's true - the Listener Mix is a week early this week and if last week's Listener Mix proves anything it's that your requests just seem to keep getting better and better! So why wait another week to hear your requests?
Friday 30th October - Mix of the Dead

"But really - why is the Listener Mix a week early?" It's the end of October and it seemed like the perfect time for another listener suggested theme from Jon the VG Nerd. Celebrating all things Halloween, the final Late and Live of October will be dedicated to nothing but tunes from and inspired by The House of the Dead series. It should be scary (in a good way!).
We've got another awesome month of Late and Live mixes to come - all you need to do now is listen! October kicks off this Friday after Pick n' Mix with our Rock Mix from 10pm BST/UK time (11pm CET/5pm ET/2pm PT/21:00 GMT) only here on RadioSEGA!
Missed the last episode of Late and Live? Download or stream the September's Listener Mix and every episode here, on Spotify or on Apple Podcasts!
Download - https://www.radiosega.net/media/?show=Late%20and%20Live

Listen on Spotify - https://open.spotify.com/show/2vR3rQ2g0Ry6FTJ8YsTIwx
Listen on Apple Podcasts - https://podcasts.apple.com/podcast/late-and-live/id1502182355
28th September, 2020 - 15:55 GMT
ResidentSD
Article viewed 145 times
There are no comments for this article.
You need to be logged in to post a comment.
Please login using the boxes at the top of the page.