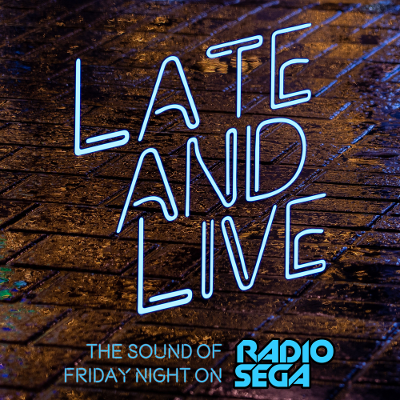 ---
Late and Live raids the archives!
Late and Live Season 3 came to an end last Friday after 35 weeks of fantastic episodes, but Late and Live isn't done with 2020 just yet as this week we present a previously thought lost episode from our archives.
Those who remember Late and Live back in 2013 will remember that it returned back for its second season as an independent show, kicking off with four episodes featuring the same SEGA party tunes that the audience were acustomed to (all of which are available on RadioSEGA Media, Apple Podcasts and wherever you get your podcasts), but without any Sonic music being played as part of a month I called "Sonic Free February". However, you can't keep the Sonic pent up inside forever so our first show of March was planned to be a Hedgehog Re...Mix and the listeners came out in force filling all the music slots so every single track was a request. However, the show never aired and Late and Live Season 2 was over before it had even began.
But then, a miracle occured. During a recent archaeological dig at St. James' Priory in Dudley, which is near to where I used to live, a tape of that missing episode was found! It contained the episode in full including all the music originally requested back in 2013 and all the talkie bits you'd expect too, even if they do sound strangely like they were recorded using the same microphone setup as Late and Live in 2020...
So take a trip back in time to Late and Live 2013 stylr this Friday. Grab the episode on RadioSEGA Media, Apple Podcasts or wherever you get your podcasts from 10pm UK time, or listen to it with us at the same time - that's 10pm GMT/UK time (11pm CET/5pm ET/2pm PT) here on RadioSEGA!
Missed the last episode of Late and Live? Download or stream November's Listener Mix and every episode here, on Apple Podcasts or wherever you get your podcasts.
Download - https://www.radiosega.net/media/?show=Late%20and%20Live

Listen on Apple Podcasts - https://podcasts.apple.com/podcast/late-and-live/id1502182355
Or search for Late and Live on Pocket Casts, Podcast Addict, Overcast or your favourite podcast app.
1st December, 2020 - 23:50 GMT
ResidentSD
Article viewed 150 times
Comments:
There are no comments for this article.
You need to be logged in to post a comment.
Please login using the boxes at the top of the page.




Requests between 11th Jan and 17th Jan







Replies: 181

Replies: 167

Replies: 39

Replies: 3

Replies: 4

http://www.segadriven.com/
http://www.lastminutecontinue.com/
http://www.sonicstadium.org/
http://www.summerofsonic.com/
http://outrun86.wordpress.com/
https://kngi.org/
https://eccothedolphin.net/
http://16bap.theclassicgamer.net
http://www.sega-addicts.com
http://soniccagedome.net/
http://twitch.tv/thecorndogbandit
http://www.thedreamcastjunkyard.co.uk/
http://yakuzafan.com/
http://puyonexus.com/
http://segabits.com/
https://www.youtube.com/c/NintendoLounge
https://dreamcastyears.co.uk/