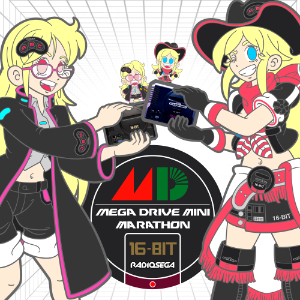 ---
Insert (Manic) Coin To Play
RadioSEGA's Mega Drive Mini Marathon kicks off this Monday and it's time we bring back the MANIC.
Kicking off our month-long celebration of the Mega Drive/Genesis Mini, The Manic Monday Show spinoff "The Manic Jukebox" will be airing this Monday, September 2nd.
What can you expect from this? Well, for starters, the same old manic host. Yes, I'm back for one more Manic Monday although in a slightly different format.
The Manic Jukebox is (mostly) a requests show (hence the jukebox part) and this edition will serve as a way of helping you to decide which songs you should nominate for our upcoming Top 40 Countdown of the best tracks from games included on SEGA's 16-bit mini console. By the way, go here to nominate your picks.
So as long as it's one of the tracks from any of the 42 games included on the MD Mini (Europe/US only), feel free to request them and I'll try to squeeze them into the show. You can request songs by messaging me in our Discord server (I'm KC, by the way!) or tweeting me (@KCradioMan) or @RadioSEGA with the hashtag #MDMiniMarathon. You can do this before or during the show.
All of this (and maybe a surprise or two) this Monday, September 2nd, at 8pm BST/9pm CEST/3pm EDT/12pm PDT, as The Manic Jukebox airs LiVE on RadioSEGA!
2nd September, 2019 - 01:01 GMT
KC
Article viewed 420 times
Comments:
You need to be logged in to post a comment.
Please login using the boxes at the top of the page.




Requests between 18th May and 24th May







Replies: 1518

Replies: 2

Replies: 838

Replies: 3660

Replies: 222

http://www.segadriven.com/
http://www.lastminutecontinue.com/
http://www.sonicstadium.org/
http://www.summerofsonic.com/
http://outrun86.wordpress.com/
https://www.facebook.com/groups/soniclondon/
https://eccothedolphin.net/
http://16bap.theclassicgamer.net
http://www.sega-addicts.com
http://twitch.tv/thecorndogbandit
http://www.thedreamcastjunkyard.co.uk/
http://yakuzafan.com/
http://puyonexus.com/
http://segabits.com/
https://www.youtube.com/c/NintendoLounge
https://kngi.org/