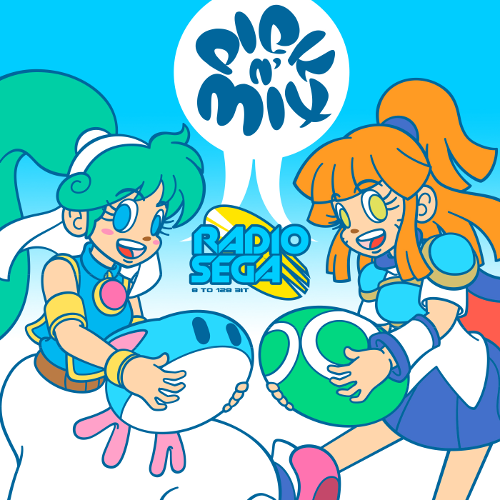 ---
RadioSEGA Spooky Shuffle - October 2019
An obligatory slightly more thrilling than normal episode of Pick n' Mix is incoming!
Pick n' Mix is fast approaching its first RadioSEGA Shuffle episode, and it just so happens thanks to scheduling that we should probably play some spooky music this episode too. How about that?

Where YOU Come into the Mix

Requests this week are much more scattered than a standard PnM episode. Obviously I want you to exclusively pick spooky tracks because my contract mandates me to get in the holiday spirit for one show per year, but you're not limited to an arbitrary number of titles like you usually would be so go nuts on picking your song(s) as long as they're thematically appropriate.

To make a request, get in touch on Twitter (@RadioSEGA) or via email (viper@radiosega.net) and you'll be sure to be featured.

How it Works

I shouldn't need to really explain how this show works since I've already done it once before, but for those of you who missed the original special, here's an updated version of how these episodes will work:

At the end of every month (fingers crossed) we'll be bringing you a slighty more special than usual episode revolving around the concept of taking segments from RadioSEGA shows past and present and either presenting them in their original unaltered format, or with a slight or not so slight twist. I hear that some new segments are also on the horizon exclusive to the RadioSEGA Shuffle... Hmmmm.

We'll pick 3 segments at random (differing from the original pilot's 4) and 1 gameshow segment at random to be played throughout the show. I did previously quite freely give away the list of possible segments during the pilot, but that list has since changed, some segments have come and some have gone, but I'm sure that we'll keep adding to the pile overtime with previously unfeatured segments and those we included in the pilot. Plus it keeps an element of surprise for the first few episodes.

In regards to the standard segments: Some may require your input, some may not. Always keep your eyes and ears out for when you can get involved at any given time. The type of segment that may be picked will generally vary, but a lot tend to fall into similar categories.

In regards to the gameshow segments: Due to the differing format of my show to those the games may have originally been featured on, some games may be altered to fit the show a little bit better. Oh, and points earnt in any gameshow during a RadioSEGA Shuffle are carried over to Code Breakers. One for those of you avidly playing along with our usual brainteasers at home.
Got all of that? If not, come along and join the fun anyway, I'm sure you'll pick up on what's happening as the show goes on. Oh right, almost forgot about the Halloween theme too (hope none of you catch me off guard with any jumpscares). Be sure to get into your best costume, not that BOO! it matters since this is radio anyway.


Catch us LiVE when we shuffle on over into RadioSEGA history this Friday at 7PM BST, 8PM CST, 1PM EDT or 10AM PDT!
24th October, 2019 - 23:05 GMT
GreenViper8
Article viewed 345 times
Comments:
There are no comments for this article.
You need to be logged in to post a comment.
Please login using the boxes at the top of the page.




Requests between 14th Sep and 20th Sep







Replies: 71

Replies: 151

Replies: 2

Replies: 39

Replies: 634

http://www.segadriven.com/
http://www.lastminutecontinue.com/
http://www.sonicstadium.org/
http://www.summerofsonic.com/
http://outrun86.wordpress.com/
https://kngi.org/
https://eccothedolphin.net/
http://16bap.theclassicgamer.net
http://www.sega-addicts.com
http://soniccagedome.net/
http://twitch.tv/thecorndogbandit
http://www.thedreamcastjunkyard.co.uk/
http://yakuzafan.com/
http://puyonexus.com/
http://segabits.com/
https://www.youtube.com/c/NintendoLounge