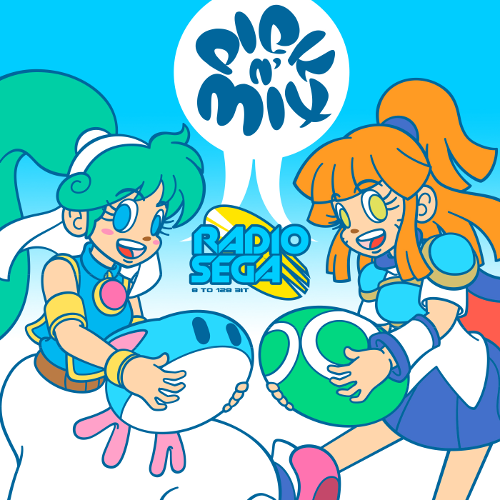 ---
A Rather Unusual Change to the Billed Schedule
How bizarre...
If you were paying attention last week, you'd remember that I'd advertised this week as being our first Recent Release Roundup, where we'd be playing music from 3 brand new SEGA releases. I've also been keeping you updated on our social feeds in regards to the postings of these 3 soundtracks, but one has been mysteriously missing: I'm still waiting to be sent the Mario and Sonic soundtrack. Being sent it isn't the end of it, because I then need to convert it from Switch formats to normal formats, make sure every track is edited properly and add the tags for every track. That takes a lot of time, and I don't even have the things necessary to start step 1. All being well, you should see the scheduled episode next week as everything else is ready to go.

Anyway, that means we're finally back to regular shows this week and we've got a purposfully odd one. What do all of these games have in common? Nothing! Have I played any of them? No! But I do know they all have great and varied soundtracks, so we're sure to have a blast on the night. I'll definitely try to squeeze in some playtime with some, don't get me wrong, but we may end up having to talk about their siblings instead.

With that in mind, here's this week's Picks:
Galaxy Force II [FM Towns] (First released for FM Towns in 1991)
Planet Harriers (First released in arcades in 2000)
The Rub Rabbits (First released for Nintendo DS in 2005)

We've also got plenty of segments on the cards for the night! Here's what's coming up:

Code Breakers
A new type of game show for RadioSEGA, revolving around your conundrum skills rather than your knowledge. The rules could completely flip on their head, so for now you're looking to solve 3 anagrams of song titles from the games featured. You've been doing pretty good so far, but we'll see if you can keep up with this week's conundrums!

King of Requesters
The King of Requesters - which is still being influenced at the time of this post - will be focusing on this week so far's top requester to our Top 40 Request Chart on this very site. If you want to take part with a chance of being the King or Queen for the week, you've got some serious work to do before this coming Friday!

Where YOU Come into the Mix
As always, I'm looking for your input on this show. If you've got any thoughts to share on the featured Picks or have some music to request, get in touch on Twitter (@RadioSEGA) or via email (viper@radiosega.net) and you'll be sure to be featured.

Catch us LiVE when we get FM funky with some rabbits in the fantasy zone this Friday at 7PM GMT, 8PM CET, 2PM EST or 11AM PST!
7th November, 2019 - 21:55 GMT
GreenViper8
Article viewed 448 times
Comments:
There are no comments for this article.
You need to be logged in to post a comment.
Please login using the boxes at the top of the page.




Requests between 27th Jul and 2nd Aug







Replies: 140

Replies: 629

Replies: 843

Replies: 7

Replies: 69

http://www.segadriven.com/
http://www.lastminutecontinue.com/
http://www.sonicstadium.org/
http://www.summerofsonic.com/
http://outrun86.wordpress.com/
https://www.facebook.com/groups/soniclondon/
https://eccothedolphin.net/
http://16bap.theclassicgamer.net
http://www.sega-addicts.com
http://soniccagedome.net/
http://twitch.tv/thecorndogbandit
http://www.thedreamcastjunkyard.co.uk/
http://yakuzafan.com/
http://puyonexus.com/
http://segabits.com/
https://www.youtube.com/c/NintendoLounge
https://kngi.org/