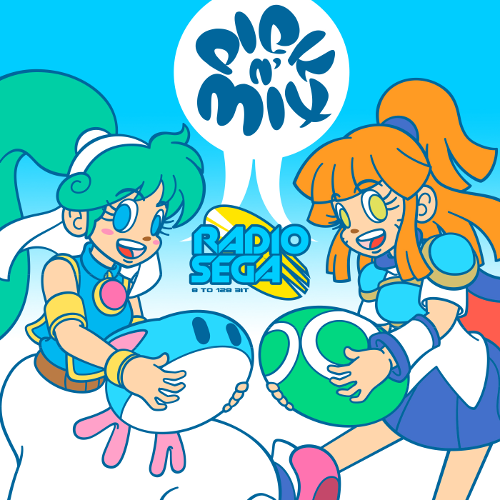 ---
Sharing Some Much Needed Love
For far too long these titles have been overlooked, but not for much longer.
It's hard to argue that all of these episode we've had over the past few months are specials when we've had so few regular episodes, so let's get to correcting that tonight with the first regular episode since November! We've got some weird twists on some well known titles, but overall a whole bunch of great music is to come.
Here's this week's Picks:
Jet Set Radio [GBA]
Samba de Amigo [Wii]
Super Fantasy Zone
Some segments have received the chop tongight but not all. Here's the segment on the card (singular) tonight:
Code Breakers
A new type of game show for RadioSEGA, revolving around your conundrum skills rather than your knowledge. The rules could completely flip on their head, so for now you're looking to solve 3 anagrams of song titles from the games featured. You've been doing pretty good so far, but we'll see if you can keep up with this week's conundrums!
King of Requesters
After last week's major punchup, this week we take a look at a slightly (slightly) more tame segment where your requests are put to the test! To participate in next week's King of Requesters, create a RadioSEGA account and get requesting from Monday to Friday!
Bring some normality with you this Friday at 7PM GMT, 8PM CET, 2PM EST or 11AM PST!
10th January, 2020 - 13:26 GMT
GreenViper8
Article viewed 382 times
Comments:
There are no comments for this article.
You need to be logged in to post a comment.
Please login using the boxes at the top of the page.




Requests between 7th Sep and 13th Sep







Replies: 151

Replies: 70

Replies: 2

Replies: 39

Replies: 634

http://www.segadriven.com/
http://www.lastminutecontinue.com/
http://www.sonicstadium.org/
http://www.summerofsonic.com/
http://outrun86.wordpress.com/
https://kngi.org/
https://eccothedolphin.net/
http://16bap.theclassicgamer.net
http://www.sega-addicts.com
http://soniccagedome.net/
http://twitch.tv/thecorndogbandit
http://www.thedreamcastjunkyard.co.uk/
http://yakuzafan.com/
http://puyonexus.com/
http://segabits.com/
https://www.youtube.com/c/NintendoLounge