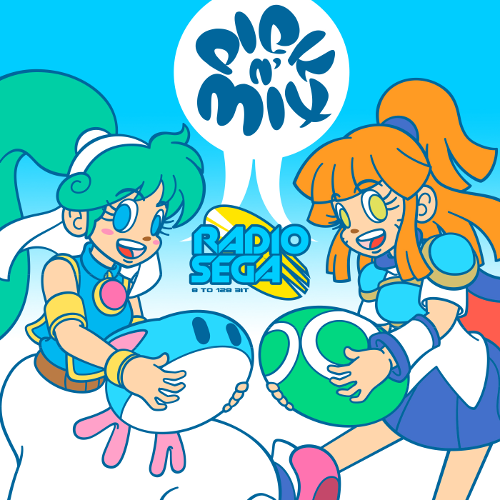 ---
This week's Pick n' Mix Moves
New time, same old show.
You read that title right. Due to pre-existing commitments this Friday night and for the rest of the weekend, Pick n' Mix will instead be moving to Sunday at 7PM GMT (same time, 2 days later).

Regardless, I must stay committed to my cause, which this month is delivering you more regular episodes. And well, I've decided that we're going to stretch the concept of last week's episode out for the rest of the month, and as such we're going to be spending this wet and miserable January giving some love to some underappreciated titles within popular SEGA franchses. This week, we continue full steam ahead with some big players but little entrants.

Here's this week's Picks:
Knuckles Chaotix [First released in 1995 for SEGA 32x and 2007 for PC]
Crazy Taxi: Fare Wars [First released in 2007 for PlayStation Portable]
Alex Kidd in Shinobi World [First released in 1990 for SEGA Master System and 2009 for Nintendo Wii]
Here's our segments hand picked for this week's show:

Code Breakers
A new type of game show for RadioSEGA, revolving around your conundrum skills rather than your knowledge. The rules could completely flip on their head, so for now you're looking to solve 3 anagrams of song titles from the games featured. You've been doing pretty good so far, but we'll see if you can keep up with this week's conundrums!

King of Requesters
The King of Requesters - which is still being influenced at the time of this post - will be focusing on this week so far's top requester to our Top 40 Request Chart on this very site. If you want to take part with a chance of being the King or Queen for the week, you've got some serious work to do before this coming Friday!

Where YOU Come into the Mix
As always, I'm looking for your input on this show. If you've got any thoughts to share on the featured Picks or have some music to request, get in touch on Twitter (@RadioSEGA) or via email (viper@radiosega.net) and you'll be sure to be featured.


Bring some TLC with you this Sunday at 7PM GMT, 8PM CET, 2PM EST or 11AM PST!
17th January, 2020 - 14:01 GMT
GreenViper8
Article viewed 484 times
Comments:
There are no comments for this article.
You need to be logged in to post a comment.
Please login using the boxes at the top of the page.




Requests between 7th Sep and 13th Sep







Replies: 71

Replies: 151

Replies: 2

Replies: 39

Replies: 634

http://www.segadriven.com/
http://www.lastminutecontinue.com/
http://www.sonicstadium.org/
http://www.summerofsonic.com/
http://outrun86.wordpress.com/
https://kngi.org/
https://eccothedolphin.net/
http://16bap.theclassicgamer.net
http://www.sega-addicts.com
http://soniccagedome.net/
http://twitch.tv/thecorndogbandit
http://www.thedreamcastjunkyard.co.uk/
http://yakuzafan.com/
http://puyonexus.com/
http://segabits.com/
https://www.youtube.com/c/NintendoLounge