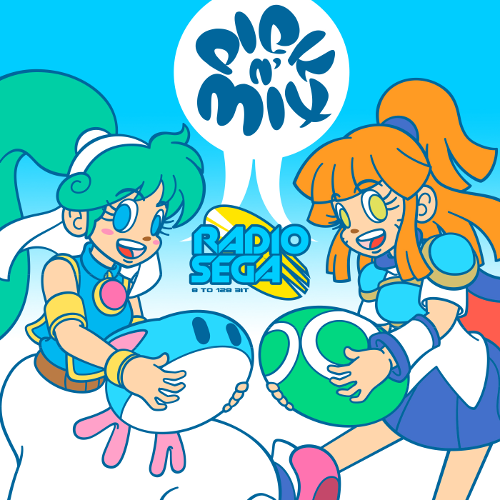 ---
Normality Within Chaos
The world around us might be burning, but let's have a damn good time in the process.
We're heading back into our standard format tonight after a couple weeks of Mixin' thanks to special occasions (is the end of the month really a special occasion?) so let's get into the swing of it with a few familiar games and one unfamiliar to spice things up a bit! I love one of these with all my heart, the other I love but it doesn't love me and the final one is a complete stranger so let's see how we mingle!

Here's this week's Picks:
Fighting Vipers (First released in 1995 for the Model 2 arcade board)
Sonic Advance (First released in 2001 for the GBA)
Phantasy Star Online 2 (First released in 2012 for the PC)

Here's the segments on the cards tonight:

Code Breakers
A new type of game show for RadioSEGA, revolving around your conundrum skills rather than your knowledge. The rules could completely flip on their head, so for now you're looking to solve 3 anagrams of song titles from the games featured. You've been doing pretty good so far, but we'll see if you can keep up with this week's conundrums!

King of Requesters
The King of Requesters - which is still being influenced at the time of this post - will be focusing on this week so far's top requester to our Top 40 Request Chart on this very site. If you want to take part with a chance of being the King or Queen for the week, you've got some serious work to do before this coming Friday!

Where YOU Come into the Mix
As always, I'm looking for your input on this show. If you've got any thoughts to share on the featured Picks or have some music to request, get in touch on Twitter (@RadioSEGA) or via email (viper@radiosega.net) and you'll be sure to be featured.


Bring your cartridges and CD-ROMs this Friday at 7PM GMT, 8PM CET, 3PM
EDT or 12PM PST!
20th March, 2020 - 17:53 GMT
GreenViper8
Article viewed 230 times
Comments:
There are no comments for this article.
You need to be logged in to post a comment.
Please login using the boxes at the top of the page.




Requests between 3rd Aug and 9th Aug







Replies: 142

Replies: 629

Replies: 843

Replies: 7

Replies: 69

http://www.segadriven.com/
http://www.lastminutecontinue.com/
http://www.sonicstadium.org/
http://www.summerofsonic.com/
http://outrun86.wordpress.com/
https://kngi.org/
https://eccothedolphin.net/
http://16bap.theclassicgamer.net
http://www.sega-addicts.com
http://soniccagedome.net/
http://twitch.tv/thecorndogbandit
http://www.thedreamcastjunkyard.co.uk/
http://yakuzafan.com/
http://puyonexus.com/
http://segabits.com/
https://www.youtube.com/c/NintendoLounge