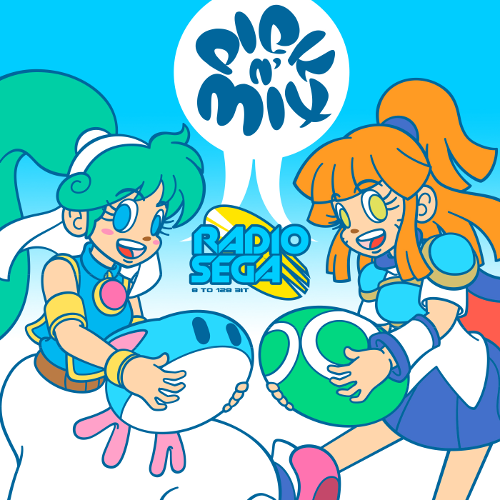 ---
Maintaining the Status Quo
Yup, a pretty average lookin' show if you ask me...
It's been a while since I've done one of these! Surprised I even found the "Post" button lying around here, what with all the dust on it...
Anyway, I'm bringing you this blogpost to let you know that this week's episode is going to be spectacularly... standard. It's gonna be as plain as it gets! But when you see the games list, maybe that's a good thing.

GAMES LIST:
Crackin' DJ (Parts 1 & 2)
Initial D Arcade Stage
Wonder Boy: The Dragon's Trap [1989 & 2017]


Mighty fine games list if you ask me. Now then, here's the segments coming up on this week's show:

Code Breakers
A new type of game show for RadioSEGA, revolving around your conundrum skills rather than your knowledge. The rules could completely flip on their head, so for now you're looking to solve 3 anagrams of song titles from the games featured. You've been doing pretty good so far, but we'll see if you can keep up with this week's conundrums!
Reqeuster Monarchy
Requester Monarchy - which is still being influenced at the time of this post - will be focusing on this week so far's top requester to our Top 40 Request Chart on this very site. If you want to take part with a chance of being the ruling champion for the week, you've got some serious work to do in the next few hours!

Where YOU Come into the Mix
As always, I'm looking for your input on this show. If you've got any thoughts to share on the featured Picks or have some music to request, get in touch on Twitter (@RadioSEGA) or via email (viper@radiosega.net) and you'll be sure to be featured.


Fall into my trap, this Friday at 7PM GMT, 8PM CST, 2PM EST or 11AM PDT!
12th February, 2021 - 02:25 GMT
GreenViper8
Article viewed 151 times
Comments:
There are no comments for this article.
You need to be logged in to post a comment.
Please login using the boxes at the top of the page.




Requests between 22nd Feb and 28th Feb







Replies: 87

Replies: 172

Replies: 42

Replies: 847

Replies: 635

http://www.segadriven.com/
http://www.lastminutecontinue.com/
http://www.sonicstadium.org/
http://www.summerofsonic.com/
http://outrun86.wordpress.com/
https://kngi.org/
https://eccothedolphin.net/
http://16bap.theclassicgamer.net
http://www.sega-addicts.com
http://soniccagedome.net/
http://twitch.tv/thecorndogbandit
http://www.thedreamcastjunkyard.co.uk/
http://yakuzafan.com/
http://puyonexus.com/
http://segabits.com/
https://www.youtube.com/c/NintendoLounge
https://dreamcastyears.co.uk/