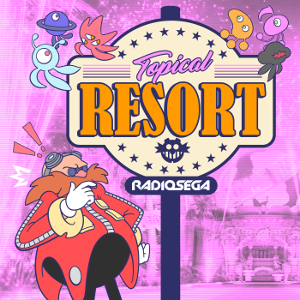 ---
Get 15% off entry using our mobile app!
Grab your mobile of choice, because we're going to Sonic Jump into the world of SEGA iOS and Android games!
Welcome back to Topical Resort, the only show on RadioSEGA that gives you motion sickness and leaves you wanting a refund into the 2nd hour.
So after getting groovy on the last episode, how could we possible follow that up? Well, it's time to get your change out, because we'll be visiting the ar... we'll be booting up our mobile devices.
You may be asking, why do I need change for a mobile game? In-app purchases, that's why. To be more specific, we'll be taking a look at SEGA's iOS and Android games, as there are too many games if we include their pre-smartphone games. There was something crazy like 60 games!
Why don't we take a look at what this week's show holds?
Request Resort
Here are the games that are eligible for this week's Request Resort:
After Burner Climax
Castle of Illusion Starring Mickey Mouse
Chain Chronicle
ChuChu Rocket!
Crazy Taxi
Crazy Taxi: City Rush
Hell Yeah! Pocket Inferno
Let's Tap (All 5 Apps)
Miku Flick
Miku Flick 2
Puyo Puyo!! Quest
Rhythm Thief & the Paris Caper
Sonic & All-Stars Racing Transformed
Sonic CD
Sonic Dash
Sonic Jump
Sonic Jump Fever
Sonic Runners
Sonic and Sega All-Stars Racing
Sonic at the Olympic Winter Games
Sonic the Hedgehog
Sonic the Hedgehog 2
Sonic the Hedgehog 4: Episode 1
Sonic the Hedgehog 4: Episode 2
Super Monkey Ball
Super Monkey Ball 2: Sakura Edition
Super Monkey Ball: Banana Blitz (Since Super Monkey Ball on iOS uses the soundtrack and levels from that game)
The Cave
The House of the Dead: Overkill- The Lost Reels
Trivia Coast
Answer some questions relating to the topic of the episode in the allotted time and win yourself some points. What do points make? Maybe prizes I haven't decided yet. This segment will take place on every other week (Discord Call-In and Trivia Coast switch back and forth).
Aside from those segments, it's business as usual. All of last week's segments will return in their standard format.
If you're wanting to get Topical, why not tune in at 7PM BST, 8PM CEST, 2PM EDT or 11AM PDT?
6th April, 2017 - 15:34 GMT
GreenViper8
Article viewed 575 times
There are no comments for this article.
You need to be logged in to post a comment.
Please login using the boxes at the top of the page.