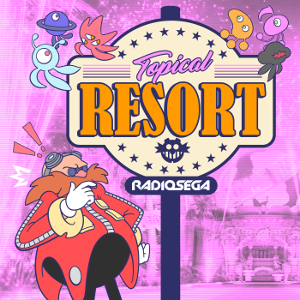 ---
Removing intruders, not copyright strikes!
We're allowing fanmade parks... for now.
So after an intruder took over the park last week, we've been tightening up on our security, and we're proud to announce that Knuckles will now be closely guarding the park! However, we've noticed that people have been making fanmade parks and hacking our other security, cut it out!
The topic of this episode will be: Sonic Fangames and Hacks
Let's take a look at the segments on offer this week:
Request Resort
There will be no Request Resort this week due to just how many games there would be on the list, and I can't possibly collect them all. Also due to all of the games being unofficial, it means we don't have them on RadioSEGA so I'd have to grab a load of soundtracks from outside sources, which would take a long time and wouldn't be worth the effort. The segment will be back in full force next week.
Discord Call-in
I'm aware that this week is meant to be the Trivia Coast, however, that segment is undergoing some maintenance, so the Discord Call-in is back this week. I can't tell you when or if the Trivia Coast will be coming back.
The Topimix
Normally I wouldn't mention this segment as it's the same week in week out, but our guest last week forgot this segment, so I thought I'd remind you that it existed and that it's back.
If you have an interest in the Blue Blur or his fans, why not tune in at 7PM BST, 8PM CEST, 2PM EDT or 11AM PDT?
21st April, 2017 - 18:54 GMT
GreenViper8
Article viewed 801 times
Comments:
There are no comments for this article.
You need to be logged in to post a comment.
Please login using the boxes at the top of the page.




Requests between 18th May and 24th May







Replies: 1522

Replies: 181

Replies: 2

Replies: 838

Replies: 3660

http://www.segadriven.com/
http://www.lastminutecontinue.com/
http://www.sonicstadium.org/
http://www.summerofsonic.com/
http://outrun86.wordpress.com/
https://www.facebook.com/groups/soniclondon/
https://eccothedolphin.net/
http://16bap.theclassicgamer.net
http://www.sega-addicts.com
http://twitch.tv/thecorndogbandit
http://www.thedreamcastjunkyard.co.uk/
http://yakuzafan.com/
http://puyonexus.com/
http://segabits.com/
https://www.youtube.com/c/NintendoLounge
https://kngi.org/