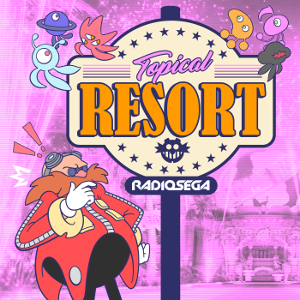 ---
Now introducing our handheld tour guides!
They're big and bulky, but having wheels makes it portable right?
Yes, it's true; you can now be guided around the park by a handheld tour guide! Please note: We are not responsible for any damage caused if or when the device decides to burst into flames. Thank you for your understanding.
So now that my silly introduction is out of the way, I guess I can say we'll be taking a dive into the world of the PSP. Yes, a console in Sony's early life that I don't hate! And I actually have something nice to say about it! Scary right?
The topic for this episode is: SEGA PSP Games
Let's take a dive into those returning segments:
Request Resort
As always, here are the games that are eligible for Request Resort:
7th Dragon 2020
7th Dragon 2020-II
After Burner: Black Falcon
Crazy Taxi: Fare Wars
Crush
Full Auto 2: Battlelines
Guilty Gear XX Reload
Hatsune Miku: Project DIVA
Hatsune Miku: Project DIVA 2nd
Hatsune Miku: Project DIVA Extend
Initial D: Street Stage
OutRun 2006: Coast 2 Coast
Phantasy Star Portable
Phantasy Star Portable 2
Phantasy Star Portable 2 Infinity
Puyo Pop Fever
Puyo Puyo 7
Puyo Puyo Fever 2
Puyo Puyo!
Puyo Puyo!!
Sakura Taisen 1
Sakura Taisen 2
Sega Rally Revo
Senjou no Valkyria 3
Senjou no Valkyria 3 Extra Edition
Shining Ark
Shining Blade
Shining Hearts
Sonic Rivals
Sonic Rivals 2
Sonic Rivals 1 & 2 Mix
Valkyria Chronicles II
Discord Call-in
Got a burning question you'd like to ask? Got an opinion on anything said on the show? Maybe you just want to talk about anything to do with gaming. Either way, the Discord Call-in is a way to do that while actually getting your voice onto the show! You may be asking "How do you do this?", and it's very simple. Join our Discord Server by visiting
radiose.ga/discord
and from there, you'll need to grab a microphone and you'll need to join the Chillout Voice Room!
Got a secret, hidden love for Sony's Portable Powerhouse? Tune in at 7PM BST, 8PM CEST, 2PM EDT or 11AM PDT!
31st May, 2017 - 19:31 GMT
GreenViper8
Article viewed 536 times
There are no comments for this article.
You need to be logged in to post a comment.
Please login using the boxes at the top of the page.