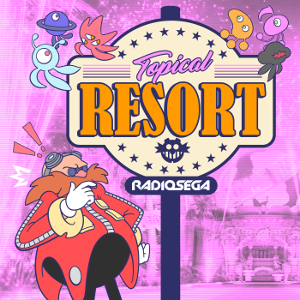 ---
We're back. With a... bang?
Might as well rename the show at this rate...
So I know that last week you were all devastated at the lack of a show (Let's be honest, no you weren't), and without sarcasm, I was pretty disappointed too. But fear not, for I am back, and this time on the Resort, we're... going against the whole name of the show?
The topic for this episode is: No Topic?!
Yes, at the end of every month, I plan to do an Off-Topic episode where I take a look into SEGA news like every other show on this site and have some general SEGA discussions with you guys! Why wasn't there an Off-Topic during March or April? March was because I didn't want the first episode to be Off-Topic, and April because I dropped an episode that month thanks to someone.
What about the segments I hear you ask? Well, most segments are in some sort of shape, except for this week we're dropping Hasty History and me rambling about the games on the list, as there is nothing to go over in those segments this week!
But let's see what's coming up from those returning segments:
Request Resort
Now, there's a bit of an issue here. Since we don't have a topic, you can't request music relating to the topic.
So here's how it's going to work instead: The songs you can request have to be from a game or relating to the subject of games. As long as we have the song on RadioSEGA or you can provide me with an MP3 of it, it's eligible. Standard radio rules apply, meaning nothing that could offend others and try to keep swearing to a minimal if possible, we try to aim for PG after all!
Discord Call-in
Got a burning question you'd like to ask? Got an opinion on anything said on the show? Maybe you just want to talk about anything to do with gaming. Either way, the Discord Call-in is a way to do that while actually getting your voice onto the show! You may be asking "How do you do this?", and it's very simple. Join our Discord Server by visiting radiose.ga/discord and from there, you'll need to grab a microphone and you'll need to join the Chillout Voice Room!
Want to hear me disregard the whole point of the show LiVE on air? Tune in at 7PM BST, 8PM CEST, 2PM EDT or 11AM PDT!
24th May, 2017 - 19:33 GMT
GreenViper8
Article viewed 524 times
There are no comments for this article.
You need to be logged in to post a comment.
Please login using the boxes at the top of the page.