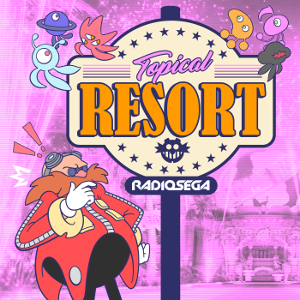 ---
I found you... TRAITOR!
Nothing says "This world has gone downhill over the past year" more than ViPER talking about his most despised console!
So, let's start this off semi-seriously for once. Yes, this was meant to be an Off-Topic episode. However, I decided that there wasn't enough news to justify an episode, as we've already covered all of the E3 news in a previous episode. So instead, let's talk about SEGA PS2 games as I'm excited about the release of the Crash N-Sane Trilogy!

The topic for this episode is: SEGA PS2 Games

Let's take a peek at the contents of this episode:

Request Resort
Here's the list of games eligibile for this week's Request Resort:
18 Wheeler Pro American Trucker
Altered Beast
Crazy Taxi
Cyber Troopers Virtual-On Oratorio Tangram
Dragon Force
Ecco Defender of the Future
F355 Challenge
Fighting Vipers
Headhunter Redemption
NiGHTS into Dreams...
OutRun 2
OutRun 2006: Coast 2 Coast
Panzer Dragoon Orta
Phantasy Star Generation II
Puyo Pop Fever
Puyo Puyo Fever II
Puyo Puyo 15th Anniversary
Rez
Seaman
SEGA Mega Drive Collection (SEGA Genesis Collection) [Any of the games in the collection]
SEGA Rally Championship
SEGA Rally 2006
SEGA Soccer Slam
SEGA Superstars
SEGA Superstars Tennis
Shadow The Hedgehog
Shining Force Neo
Shining Wind
Shinobi PS2
Sonic Gems Collection [Any of the games in the collection or the original music]
Sonic Heroes
Sonic Mega Collection Plus [Any of the games in the collection or the original music]
Sonic Riders
Sonic Riders: Zero Gravity
Sonic Unleashed
Space Channel 5
Space Channel 5: Part 2
Super Monkey Ball Adventure
Super Monkey Ball Deluxe
Thunder Force VI
Triggerheart Exilia
Virtua Cop Elite Edition
Virtua Fighter 4: Evolution
Virtua Tennis 2
Yakuza 2

You can get in your requests for this segment over on our Twitter (@RadioSEGA) or my own Twitter (@TheGreenViper8), you can send me a PM on our Discord server (radiose.ga/discord) or you can email me at topicalresort@gmail.com

Discord Call-in
Got a burning question you'd like to ask? Got an opinion on anything said on the show? Maybe you just want to talk about anything to do with gaming. Either way, the Discord Call-in is a way to do that while actually getting your voice onto the show! You may be asking "How do you do this?", and it's very simple. Join our Discord Server by visiting radiose.ga/discord and from there, you'll need to grab a microphone and you'll need to join the Chillout Voice Room!


Do you for some odd reason love the PS2 despite claiming to be a SEGA fan? Then why not tune in at 7PM BST, 8PM CEST, 2PM EDT or 11AM PDT?
29th June, 2017 - 21:41 GMT
GreenViper8
Article viewed 831 times
Comments:
There are no comments for this article.
You need to be logged in to post a comment.
Please login using the boxes at the top of the page.




Requests between 25th May and 31st May







Replies: 56

Replies: 0

Replies: 1522

Replies: 181

Replies: 2

http://www.segadriven.com/
http://www.lastminutecontinue.com/
http://www.sonicstadium.org/
http://www.summerofsonic.com/
http://outrun86.wordpress.com/
https://www.facebook.com/groups/soniclondon/
https://eccothedolphin.net/
http://16bap.theclassicgamer.net
http://www.sega-addicts.com
http://twitch.tv/thecorndogbandit
http://www.thedreamcastjunkyard.co.uk/
http://yakuzafan.com/
http://puyonexus.com/
http://segabits.com/
https://www.youtube.com/c/NintendoLounge
https://kngi.org/