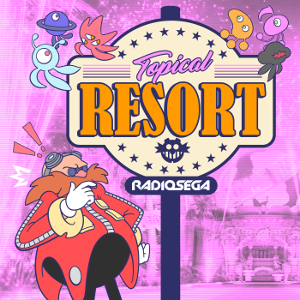 ---
Who even am I?
No I'm not having an existential crisis, but the Resort may be...
It's that time again, the time where we drop the... you know, whole point of the show, and go Off-Topic, discussing News and giving our own spin on the current affairs in the SEGA world. Just ignore the last episode in that regard okay?

The topic of the episode is: Off-Topic
As always, let's see what segments we have returning this week:
Request Resort

As always, the Request Resort returns even if there is seemingly nothing to request, due to the lack of a topic. So that begs the question, "What can I request?" Simple. You can request ANY music from games or relating to video games. Although my goal is to exclude Non-SEGA music or topics as much as possible, request away any of those Non-SEGA tracks, but just note that they will be kept to a minimum, this is RadioSEGA after all!
As for how you can request a track? If it is a track we don't have on RadioSEGA, send it to me in a Discord DM (radiose.ga/discordhttp://radiose.ga/discord) fully tagged and I'll get it on the air. If we do have it, well, you've got plenty of options...
You can get in your requests for this segment over on our Twitter (@RadioSEGA) or my own Twitter (@TheGreenViper8), or you can send me a PM on our Discord server (radiose.ga/discord).
Discord Call-in
Got a burning question you'd like to ask? Got an opinion on anything said on the show? Maybe you just want to talk about anything to do with gaming. Either way, the Discord Call-in is a way to do that while actually getting your voice onto the show! You may be asking "How do you do this?", and it's very simple. Join our Discord Server by visiting
radiose.ga/discord
and from there, you'll need to grab a microphone and you'll need to join the Chillout Voice Room!
Want to hear me disregard the whole point of the show LiVE on air? Tune in at 7PM BST, 8PM CEST, 2PM EDT or 11AM PDT!
26th July, 2017 - 18:27 GMT
GreenViper8
Article viewed 784 times
There are no comments for this article.
You need to be logged in to post a comment.
Please login using the boxes at the top of the page.