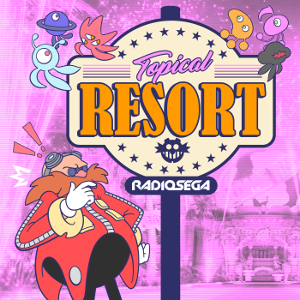 ---
We're Sonic Maniacs!
Obligatory Mania episode here we come...
Like everyone else, here at the Resort we're excited for the release of Sonic Mania (Well, most of us anyway). That can only mean one thing of course; it's time for the obligatory Mania pre-release special... with a bit of a twist!

I'd like to know what zones you'd like to see in Sonic Mania and why. It doesn't just have to be from Classic games, it can be anything. A zone you made up, a zone from a Modern game, a zone from an obscure spinoff or maybe even from a fangame, anything goes! There are plenty of places to get your say in, such as Twitter (@RadioSEGA, @TheGreenViper8 or @TopicalResort) or maybe Discord (radiose.ga/discord) or maybe even email (topicalresort@gmail.com)!

The topic for this episode is: Zones We'd Like to See in Sonic Mania

And as usual we'll be throwing in some tracks from Mania for good measure.

Here's what's coming up on this week's episode:

Request Resort
This week's Request Resort will work a little different (what else is new), as the Request Resort will be determined by the level themes of the levels you want to see.
For example, let's say you wanted to see IceCap Zone in Sonic Mania. You'd give me your reason why, and then your request for this segment would automatically be put towards IceCap. Sounds simple right?
However, for the first time in the history of this segment, it won't actually be a segment, instead, your requests will be spread all throughout the show, and so you'll hear a mix of my requests and your own requests all throughout the show!


You can get in your requests for this segment over on our Twitter (@RadioSEGA) or my own Twitter (@TheGreenViper8), at the official show Twitter (@TopicalResort), you can send me a PM on our Discord server (radiose.ga/discord) or you can email me at topicalresort@gmail.com

Discord Call-in
Got a burning question you'd like to ask? Got an opinion on anything said on the show? Maybe you just want to talk about anything to do with gaming. Either way, the Discord Call-in is a way to do that while actually getting your voice onto the show! You may be asking "How do you do this?", and it's very simple. Join our Discord Server by visiting radiose.ga/discord and from there, you'll need to grab a microphone and you'll need to join the Chillout Voice Room!


Do you have a zone you'd really like to see in Sonic Mania and you'd like to let me know? Then tune in at 7PM BST, 8PM CEST, 2PM EDT or 11AM PDT!
9th August, 2017 - 16:19 GMT
GreenViper8
Article viewed 628 times
Comments:
There are no comments for this article.
You need to be logged in to post a comment.
Please login using the boxes at the top of the page.




Requests between 5th May and 12th May







Replies: 0

Replies: 28

Replies: 1016

Replies: 41

Replies: 2423

http://www.segadriven.com/
http://www.lastminutecontinue.com/
http://www.sonicstadium.org/
http://www.summerofsonic.com/
http://outrun86.wordpress.com/
https://www.facebook.com/groups/soniclondon/
https://twitter.com/cavernsofhope
http://16bap.theclassicgamer.net
http://www.sega-addicts.com
http://segadoes.com/
http://thesonicshow.org/
http://twitch.tv/thecorndogbandit
http://www.thedreamcastjunkyard.co.uk/
http://yakuzafan.com/
http://puyonexus.com/
http://segabits.com/
https://www.youtube.com/c/NintendoLounge