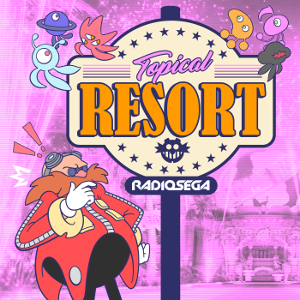 ---
I Dream Of... Purple Lunchboxes...
A very specific dream, no?
It's almost 9/9, which means it's Dreamcast week. So I've had the great idea to instead not talk about the Dreamcast, and talk about my other favourite console that also has an anniversary this week, the GameCube!

The topic for this episode is: SEGA GameCube Games

Here's what's coming up on this week's episode:

Request Resort
Here's the list of eligible games for this week's Request Resort:
18 Wheeler: American Pro Trucker
Billy Hatcher and the Giant Egg
Crazy Taxi
F-Zero GX
Phantasy Star Online Episode I & II
Phantasy Star Online Episode I & II & III Trilogy
Phantasy Star Online Episode III: C.A.R.D. Revolution
Puyo Pop Fever
Sega Soccer Slam
Shadow the Hedgehog
Skies of Arcadia
Sonic Adventure 2: Battle
Sonic Adventure DX: Director's Cut
Sonic Gems Collection
Sonic Heroes
Sonic Mega Collection
Sonic Riders
Super Monkey Ball
Super Monkey Ball 2
Virtua Quest

You can get in your requests for this segment over on our Twitter (@RadioSEGA) or my own Twitter (@TheGreenViper8), at the official show Twitter (@TopicalResort), you can send me a PM on our Discord server (radiose.ga/discord) or you can email me at topicalresort@gmail.com.

Discord Call-in
Got a burning question you'd like to ask? Got an opinion on anything said on the show? Maybe you just want to talk about anything to do with gaming. Either way, the Discord Call-in is a way to do that while actually getting your voice onto the show! You may be asking "How do you do this?", and it's very simple. Join our Discord Server by visiting radiose.ga/discord and from there, you'll need to grab a microphone and you'll need to join the Chillout Voice Room!


Are you a fan of Nintendo's purple lunchbox? Then tune in at 7PM BST, 8PM CEST, 2PM EDT or 11AM PDT!
6th September, 2017 - 19:44 GMT
GreenViper8
Article viewed 648 times
Comments:
There are no comments for this article.
You need to be logged in to post a comment.
Please login using the boxes at the top of the page.




Requests between 25th May and 31st May







Replies: 56

Replies: 0

Replies: 1522

Replies: 181

Replies: 2

http://www.segadriven.com/
http://www.lastminutecontinue.com/
http://www.sonicstadium.org/
http://www.summerofsonic.com/
http://outrun86.wordpress.com/
https://www.facebook.com/groups/soniclondon/
https://eccothedolphin.net/
http://16bap.theclassicgamer.net
http://www.sega-addicts.com
http://twitch.tv/thecorndogbandit
http://www.thedreamcastjunkyard.co.uk/
http://yakuzafan.com/
http://puyonexus.com/
http://segabits.com/
https://www.youtube.com/c/NintendoLounge
https://kngi.org/