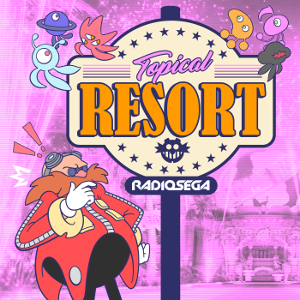 ---
Wanted: SEGA Games
Reward: 500 rings or your SEGA currency of choice.
After demand from listeners to bring the format back, on this episode of the Topical Resort, we'll be bringing back a fan favourite type of show, so give a warm welcome to the return of... *drumroll* question/opinion episodes! Also known as the episode where I ask a question and myself and others give our responses, and well, let's see what the question is this week...

The question for this episode is: What SEGA franchises would you like to see return?

Here's what's coming up on this week's episode:

Request Resort
For this episode, I'll be playing music surrounding my responses to the question, and the Request Resort will follow the same concept. Send in your responses to the question, and then send in 2 songs relating to your response!

We'll also be spreading requests throughout the show, rather than in one large block, as is traditional with this type of episode, so we've got plenty of room for requests!

You can get in your requests for this segment over on our Twitter (@RadioSEGA) or my own Twitter (@TheGreenViper8), at the official show Twitter (@TopicalResort), you can send me a PM on our Discord server (radiose.ga/discord) or you can email me at topicalresort@gmail.com.

Discord Call-in
Got a burning question you'd like to ask? Got an opinion on anything said on the show? Maybe you just want to talk about anything to do with gaming. Either way, the Discord Call-in is a way to do that while actually getting your voice onto the show! You may be asking "How do you do this?", and it's very simple. Join our Discord Server by visiting radiose.ga/discord and from there, you'll need to grab a microphone and you'll need to join the Chillout Voice Room!


Is there a specific franchise you'd like to see return? Or maybe would you like to see something new? What about a singular game that you'd like to see a sequel to? Then why not tune in at 7PM BST, 8PM CEST, 2PM EDT or 11AM PDT?
11th October, 2017 - 18:59 GMT
GreenViper8
Article viewed 701 times
Comments:
There are no comments for this article.
You need to be logged in to post a comment.
Please login using the boxes at the top of the page.




Requests between 25th May and 31st May







Replies: 56

Replies: 0

Replies: 1522

Replies: 181

Replies: 2

http://www.segadriven.com/
http://www.lastminutecontinue.com/
http://www.sonicstadium.org/
http://www.summerofsonic.com/
http://outrun86.wordpress.com/
https://www.facebook.com/groups/soniclondon/
https://eccothedolphin.net/
http://16bap.theclassicgamer.net
http://www.sega-addicts.com
http://twitch.tv/thecorndogbandit
http://www.thedreamcastjunkyard.co.uk/
http://yakuzafan.com/
http://puyonexus.com/
http://segabits.com/
https://www.youtube.com/c/NintendoLounge
https://kngi.org/