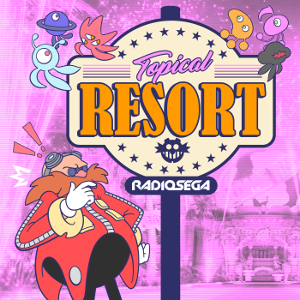 ---
2017 comes at you fast...
But not as fast as the blue blur himself of course.
Somehow, we've already reached the end of November, and for the most of society (we all know there's something wrong and we've known it all along), it means that it's time to start getting ready for the holidays. However, as an adamant believer of Christmas shouldn't be celebrated until December, we've still got 1 more week before we can open the floodgates of Christmas music here at the Resort.
So as usual, what does this have to do with the episode? Nothing, but just clearing the rumours that there might be winter music on this episode...
But as it is the end of the month, it means we'll be doing our usual look at the SEGA headlines that have made up the month of November, and as for the music, we have something else lined up.
Currently on-going is RadioSEGA's Song of the Year 2017 contest, which allows you to vote for songs from SEGA and Atlas games released between November 2016 and October 2017, with 1 gaining the coveted title of RadioSEGA's Song of the Year. As this competition is still on-going, I will be playing you some of the tracks that you can vote for in my music blocks. It also helps that this year has been one of the best for SEGA soundtracks, so we've got plenty of tunes to come up!
The topic for this episode is: Off-Topic
Here's what's coming up on this week's episode:
Request Resort
Despite my music selections relating to the Song of the Year competition, that doesn't mean that yours have to. Some mentioned that they had Saturn requests that they never got round to sending in, so your requests for music from Saturn games are still eligible! However, the usual Off-Topic rules apply to this episode, which can be viewed below:
Gaming music only
If it is on the RadioSEGA Playlist, I will have it
If it is not on our Playlist, I will need you to send it to me with full tags (Places you can send it are listed down below)
Please only send music that is decent to air, no music that could be deemed offensive will be broadcasted
Discord Call-in
Got a burning question you'd like to ask? Got an opinion on anything said on the show? Maybe you just want to talk about anything to do with gaming. Either way, the Discord Call-in is a way to do that while actually getting your voice onto the show! You may be asking "How do you do this?", and it's very simple. Join our Discord Server by visiting
radiose.ga/discord
and from there, you'll need to grab a microphone and you'll need to join the Chillout Voice Room!
Do you want to hear the month's headlines? Or perhaps you just want to listen to the best SEGA had to offer in 2017? Then tune in at 7PM GMT, 8PM CET, 2PM EST or 11AM PST!
22nd November, 2017 - 20:00 GMT
GreenViper8
Article viewed 448 times
There are no comments for this article.
You need to be logged in to post a comment.
Please login using the boxes at the top of the page.