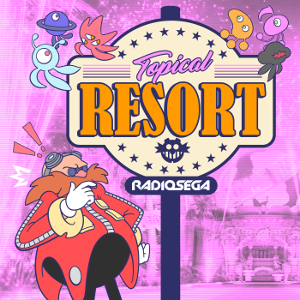 ---
This episode is not our future...
Alternative title: Introducing... Disappointment
The weather's getting colder, and that means one thing for most people, time to wrap up warm inside. I'm sure for a lot of those people, the way they like to unwind in the winter months is by playing some consoles, and it's time for us SEGA fans to do that too... except we're inside all months of the year!
Although in the summer we tended to focus more on handhelds here on the Topical Resort, consoles are one of the main things that remind me that we're rapidly approaching the last months of the year, and so it seemed fitting to do some more console specials in these months. We've already looked at the SEGA CD, we'll soon be looking at the Dreamcast, but for now, why don't we take a peak at what came between those two... no not the 32X.
The topic for this episode is: SEGA Saturn
Here's what's coming up on this week's episode:
Request Resort
The list of games eligible for this week's Request Resort are:
Astal
Bug!
Bug Too!
Baku Baku Animal
Burning Rangers
Christmas NiGHTS
Clockwork Knight
Clockwork Knight 2
Club Saturn
Cyber Speedway (Gran Chaser)
Cyber Troopers Virtual-On
Dark Saviour
Daytona USA [Saturn]
Dragon Force
Dragon Force II
F1 Challenge
Fighters Megamix [Saturn]
Fighting Vipers [Saturn]
Ghen War
Golden Axe - The Duel [Saturn]
Guardian Heroes
Hang-On GP
ManX TT Super Bike
Mr. Bones
NiGHTS into Dreams...
Panzer Dragoon Saga
Panzer Dragoon Zwei
Puyo Puyo Sun
Sakura Taisen
Sakura Taisen II
SEGA Rally Championship
SEGA Touring Car
SEGA Worldwide Soccer '97 (Victory Goal Worldwide Edition)
Shining Force III
Shining The Holy Ark
Shining Wisdom
Shinobi Legions
Shinobi X
Sonic 3D Blast
Sonic Jam
Sonic R
Sonic X-Treme
The House of the Dead
Three Dirty Dwarves
Virtua Cop
Virtua Cop 2
Virtua Fighter 2
Discord Call-in
Got a burning question you'd like to ask? Got an opinion on anything said on the show? Maybe you just want to talk about anything to do with gaming. Either way, the Discord Call-in is a way to do that while actually getting your voice onto the show! You may be asking "How do you do this?", and it's very simple. Join our Discord Server by visiting
radiose.ga/discord
and from there, you'll need to grab a microphone and you'll need to join the Chillout Voice Room!
Are you a fan of the underloved hardware powerhouse? Then tune in at 7PM GMT, 8PM CET, 2PM EST or 11AM PST!
15th November, 2017 - 19:59 GMT
GreenViper8
Article viewed 469 times
There are no comments for this article.
You need to be logged in to post a comment.
Please login using the boxes at the top of the page.