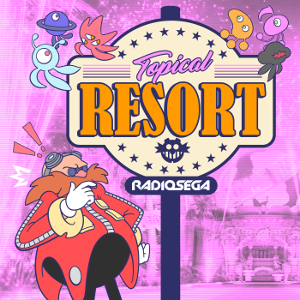 ---
One month isn't enough?
Instead of recapping the month's SEGA news (although we'll still be doing that), let's recap an entire YEAR of SEGA news!
After the absolute insanity that was last week's show (40 listeners!), the Topical Resort needs to take a week to chill (pun intended) and what better way to chill then sitting back and reading the news?
The topic for this episode is: Off-Topic
Here's what's coming up on this week's episode:
Request Resort
Since this episode will be Off-Topic, that means you can pick any music you want for the Request Resort this week, as long as it is in line with the rules below:
Gaming music only
If it is on the RadioSEGA Playlist, I will have it
If it is not on our Playlist, I will need you to send it to me with full tags (Places you can send it are listed down below)
Please only send music that is decent to air, no music that could be deemed offensive will be broadcasted
You can get in your requests for this segment over on our Twitter (@RadioSEGA) or my own Twitter (@TheGreenViper8), at the official show Twitter (@TopicalResort), you can send me a PM on our Discord server (radiose.ga/discord) or you can email me at topicalresort@gmail.com.
Discord Call-in
Got a burning question you'd like to ask? Got an opinion on anything said on the show? Maybe you just want to talk about anything to do with gaming. Either way, the Discord Call-in is a way to do that while actually getting your voice onto the show! You may be asking "How do you do this?", and it's very simple. Join our Discord Server by visiting
radiose.ga/discord
and from there, you'll need to grab a microphone and you'll need to join the Chillout Voice Room!
Do you want to hear SEGA's best 2017 headlines? Then tune in at 7PM GMT, 8PM CET, 2PM EST or 11AM PST!
20th December, 2017 - 18:26 GMT
GreenViper8
Article viewed 723 times
Comments:
There are no comments for this article.
You need to be logged in to post a comment.
Please login using the boxes at the top of the page.




Requests between 25th May and 31st May







Replies: 56

Replies: 0

Replies: 1522

Replies: 181

Replies: 2

http://www.segadriven.com/
http://www.lastminutecontinue.com/
http://www.sonicstadium.org/
http://www.summerofsonic.com/
http://outrun86.wordpress.com/
https://www.facebook.com/groups/soniclondon/
https://eccothedolphin.net/
http://16bap.theclassicgamer.net
http://www.sega-addicts.com
http://twitch.tv/thecorndogbandit
http://www.thedreamcastjunkyard.co.uk/
http://yakuzafan.com/
http://puyonexus.com/
http://segabits.com/
https://www.youtube.com/c/NintendoLounge
https://kngi.org/