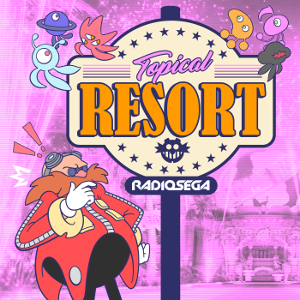 ---
ROOOOLLLLIIIIIING STAAAAAAART!
Crashes into the car infront
It's been a long while, hasn't it? Even longer than I anticipated, but that's unfortunately how life has to work out sometimes. The period between the start of this season and the end of season 1 were just as hectic as expected, but that's over now, so it's time for the grand reopening of the Topical Resort!

As you may have heard from the trailer that's currently airing around the station, there are some changes to the show, but it is largely still the same show that you remember. Think of it as more of an HD remaster, rather than a remake.

As for the topic of this first episode, well, it seemed almost fitting. It's one that a few people including myself have wanted for a while now, it's a genre much like the opening to the first season, and said genre has tons of great games with equally great soundtracks. In this case, everyone's a winner! Well... except for those running last...

The topic for this episode is: SEGA Racing Games

Here's what's coming up on this week's episode:

Request Resort
Here is the list of games eligible for this week's Request Resort:
18 Wheeler: American Pro Trucker
Crazy Taxi
Crazy Taxi 2
Crazy Taxi 3: High Roller
Crazy Taxi: Fare Wars
Daytona USA
Daytona USA 2
Daytona USA 2001
Daytona USA: Championship Circuit Edition
F-Zero AX/GX
F355 Challenge
Gale Racer
Hang-On
Initial D Arcade Stage
Initial D Special Stage
Initial D Street Stage
Manx TT Superbike
Metropolis Street Racer
Monaco GP
NASCAR Arcade
Ollie King
OutRun
OutRun 2
OutRun 2006: Coast 2 Coast
Power Drift
Racing Hero
Rad Mobile
Rough Racer
SCUD Race
SEGA GT
SEGA GT 2002
SEGA GT Online
SEGA Racing Classic
SEGA Rally Championship
SEGA Rally 2
SEGA Rally 3
SEGA Rally Revo
SEGA Touring Car Championship
Sonic & All-Stars Racing Transformed
Sonic & SEGA All-Stars Racing
Sonic Drift
Sonic Drift 2
Sonic Free Riders
Sonic R
Sonic Riders
Sonic Riders: Zero Gravity
Sonic Rivals
Sonic Rivals 2
Super Hang-On
Top Skater
Turbo OutRun
Virtua Racing
Wave Runner

You can get in your requests for this segment over on our Twitter (@RadioSEGA) or my own Twitter (@TheGreenViper8), at the official show Twitter (@TopicalResort), you can send me a PM on our Discord server (radiose.ga/discord) or you can email me at topicalresort@gmail.com.

Trivia Coast
I'm sure this will be new to many who listen to the show, but the Trivia Coast is now coming back as a regular segment for this series... just like it was meant to be for the last. Any prior scores from previous episodes or specials have been reset to even the playing field for everyone, and those who already had some points should be informed that it's going to work a bit differently to last time.

Here's the rules:
1) There will be 3 questions, 1 easier, 1 medium and 1 more difficult. Each will score you 1, 3 and 5 points respectively.
2) At the end of each of the first 3 talkbeds, I will ask you one question, starting with the hardest so you have the most time to figure it out.
3) You can enter for each question up until just before the 4th talkbed, where a reminder that entries are closed will be played.
4) You get as many guesses as you like, so don't be afraid to give me an answer, even if you're not certain.
5) Google is allowed, however the questions will be worded in a way to where typing the information in directly won't give you the answer immediately. Google should help with the answer, not give it to you for you.
6) This quiz is mainly for fun, so you are able to flex your SEGA knowledge. Your points may build up to something much later in the series, but they won't get you anything now. Prizes will be mostly reserved for special weeks, as the type of quiz this is rewards weekly play, and it's not fair for those who've missed one week let alone those who might only listen in for a special episode. To recap: Quiz is for fun, prizes will be during special weeks.
7) Most importantly, enjoy yourself! If you really don't know the answer to a question, remember that it's only a bit of fun and keep it in mind that you may smash it on the next one!

With all of that out of the way, keep in mind that this segment along with all others are bi-weekly, so don't sweat it if you're getting really into it but have to miss a show one week, as it may be the week we're not playing anyway!

You can play along with the Trivia Coast by sending GreenViper8#6383 a private message with your answer on Discord!

Test Your Topicality
It's the new segment that has a lot of mystery surrounding it, so let me clear the air on it a bit. This segment quite literally throws two people head to head with those heads being hot! Two people - Either a guest and myself or two guests are given a point of discussion, and handed the stance they have to take on it. On the spot, they must argue for or against the point of discussion and aim to come up with as many points as possible for their side of the argument during the time limit. The winner is the one who gives the highest number of valid points, but the listeners can also choose who they think made the *best* points, not necessarily the points they agreed with the most.

Let's throw an example for those who might not be following along. Let's say the point of debate was "Do SEGA make good racing games?", each debater will be handed a stance they must take, either positive or negative and argue for it, even if they don't agree themselves. Contestant 1 would argue why SEGA make great racers while Contestant 2 would argue why SEGA make horrible racers. The time limit can vary depending on just how intense the subject is, but it's mostly going to stay around 10 minutes. The winner based on number is then declared, and then listeners can decide who they think made the best points.

This segment is also bi-weekly, and doesn't contribute to anything more than just a little fun, but we recommend you give it a shot once anyway!

It might sound a little complex, but don't worry, it'll all be cleared up on the night and it's sure to be a lot of fun, and certainly a change of pace from the more mellow discussions of the past!



You can feel the sunshine in Resort Island, but why not come and soak it up at the Topical Resort? Tune in at 7PM BST, 8PM CEST, 2PM EDT or 11AM PDT!
27th June, 2018 - 19:31 GMT
GreenViper8
Article viewed 438 times
There are no comments for this article.
You need to be logged in to post a comment.
Please login using the boxes at the top of the page.