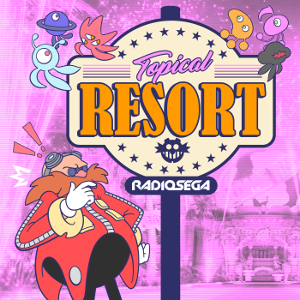 ---
Coming Directly to YU!
Of course that was the pun we were going to go with, what else did you expect?
Yu Suzuki. I only need to say the name and you've probably thought of one or many of your favourite games created by the man. Or if you're exclusively a Sonic fan and have never heard of him... he made Sonic the Fighers. Now go play OutRun!

The topic for this episode is: Yu Suzuki

Here's what's coming up on this week's episode:

Request Resort
Here is the list of games eligible for this week's Request Resort:
18 Wheeler: American Pro Trucker
After Burner
After Burner II
After Burner III [FM Towns]
After Burner III [Mega CD]
Daytona USA
Daytona USA 2
Dynamite Dux
F1 Exhaust Note
F1 Super Lap
F355 Challenge
Fighting Vipers
Fighting Vipers 2
G-LOC: Air Battle
GP Rider
Hang-On
OutRun
OutRun 2
Power Drift
Propeller Arena
Scud Race
Shenmue
Shenmue II
Sonic the Fighters
Space Harrier
Space Harrier II
Strike Fighter
Super Hang-On
Turbo OutRun
Virtua Cop
Virtua Cop 2
Virtua Cop 3
Virtua Fighter
Virtua Fighter 2
Virtua Fighter 3tb
Virtua Fighter 4
Virtua Striker

You can get in your requests for this segment over on Twitter (@RadioSEGA, @TopicalResort or @TheGreenViper8), you can send me a PM on our Discord server (radiose.ga/discord) or you can email me at topicalresort@gmail.com.

Trivia Coast
The Trivia Coast is our bi-weekly quiz show! Bring your knowledge along to win some points, and then brag to others that you know too much about SEGA! The 3 questions you will be asked all relate to the topic at hand, and Google is allowed, but is meant to be used as more of a tool rather than a way to guarantee you the answer. With that in mind, best of luck!

You can play along with the Trivia Coast by sending GreenViper8#6383 a private message with your answer on Discord!

RadioSEGA Reviews...
Coming up on this week's show, we have an audio review of a game just about to be released. No, not *that* one, but it's a game that I'm sure many of us are looking forward to, I know that I certainly am. DrScottnik will be taking a look at the upcoming releases of Persona 3 & 5 Dancing, coming out this Tuesday. We'll hear his audio review, as well as a few of his favourites from the game so far, all ahead of his Sweaty Sundays special and the release of the video review!

Test Your Topicality
"Calm and thought-provoking discussions" are words that describe everything that Test your Topicality isn't! It's a frantic battle between 2 contestants to argue for or against a statement, and it's a stance that they may not necessarily agree with. It's messy, it's rough, but that's the fun of it all. Who will be in the hot-seat and what will they be arguing for? There's only one way to find out...


Are you into any of the games released throughout Yu Suzuki's incredible SEGA career? Then why not consider tuning in at 7PM GMT, 8PM CET, 2PM EST or 11AM PST?
29th November, 2018 - 16:20 GMT
GreenViper8
Article viewed 258 times
Comments:
There are no comments for this article.
You need to be logged in to post a comment.
Please login using the boxes at the top of the page.




Requests between 15th Jul and 21st Jul







Replies: 29

Replies: 2427

Replies: 24

Replies: 5

Replies: 58

http://www.segadriven.com/
http://www.lastminutecontinue.com/
http://www.sonicstadium.org/
http://www.summerofsonic.com/
http://outrun86.wordpress.com/
https://www.facebook.com/groups/soniclondon/
https://twitter.com/cavernsofhope
http://16bap.theclassicgamer.net
http://www.sega-addicts.com
http://twitch.tv/thecorndogbandit
http://www.thedreamcastjunkyard.co.uk/
http://yakuzafan.com/
http://puyonexus.com/
http://segabits.com/
https://www.youtube.com/c/NintendoLounge