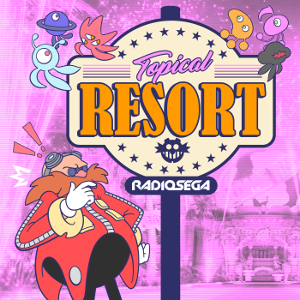 ---
Go Away!
If you get the reference, good. If you don't, you probably didn't get to reading this piece of text...
You guys asked for this one. No, you REALLY asked for this one. Three requests were placed for this episode on the forum, and I believe I may have had some in private before too. Either way, if you didn't request it, we all know that you secretly deep down wanted it, so we're giving it to you. It's an episode about everyone's favourite (and I mean it) SEGA vocal artist: Takenobu Mitsuyoshi!

The topic for this episode is: Takenobu Mitsuyoshi

Here's what's coming up on this week's episode:

Request Resort
There's no definitive list here, because in some cases there's whole soundtracks, and in others there's just singular tracks, but considering the topic of the episode, you should know what's eligible.

If it's made by Mitsuyoshi, it can be in here. We'll be keeping the non-SEGA to a minimum, but truth be told, there really isn't all that much of it. Either way, read where you can send your requests down below:

You can get in your requests for this segment over on Twitter (@RadioSEGA, @TopicalResort or @TheGreenViper8), you can send me a PM on our Discord server (radiose.ga/discord) or you can email me at topicalresort@gmail.com.

Trivia Coast
The Trivia Coast is our bi-weekly quiz show! Bring your knowledge along to win some points, and then brag to others that you know too much about SEGA! The 3 questions you will be asked all relate to the topic at hand, and Google is allowed, but is meant to be used as more of a tool rather than a way to guarantee you the answer. With that in mind, best of luck!

You can play along with the Trivia Coast by sending GreenViper8#6383 a private message with your answer on Discord!

Test Your Topicality
"Calm and thought-provoking discussions" are words that describe everything that Test your Topicality isn't! It's a frantic battle between 2 contestants to argue for or against a statement, and it's a stance that they may not necessarily agree with. It's messy, it's rough, but that's the fun of it all. Who will be in the hot-seat and what will they be arguing for? There's only one way to find out...


Are you a fan of the legendary and iconic vocal artist? Or (gasp) have you never heard of the guy? Either way, consider tuning in at 7PM GMT, 8PM CET, 2PM EST or 11AM PST!
8th November, 2018 - 22:11 GMT
GreenViper8
Article viewed 181 times
Comments:
There are no comments for this article.
You need to be logged in to post a comment.
Please login using the boxes at the top of the page.




Requests between 5th May and 12th May







Replies: 0

Replies: 28

Replies: 1016

Replies: 41

Replies: 2423

http://www.segadriven.com/
http://www.lastminutecontinue.com/
http://www.sonicstadium.org/
http://www.summerofsonic.com/
http://outrun86.wordpress.com/
https://www.facebook.com/groups/soniclondon/
https://twitter.com/cavernsofhope
http://16bap.theclassicgamer.net
http://www.sega-addicts.com
http://segadoes.com/
http://thesonicshow.org/
http://twitch.tv/thecorndogbandit
http://www.thedreamcastjunkyard.co.uk/
http://yakuzafan.com/
http://puyonexus.com/
http://segabits.com/
https://www.youtube.com/c/NintendoLounge