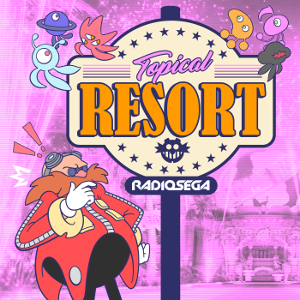 ---
No Show This Week as Jamie Called Me Lazy...
Yeah, of course it's a joke. Nice clickbait though...
This episode's going to be a bit on its head. For one, there's no SEGA Mixer Drive on afterwards, meaning we'll have an extended show, but also all segments are seemingly going out of the window due to the subject at hand.

RadioSEGA's Fan Choice Competition of 2018 is underway as you are no doubt aware. We have the usual Song of the Year and Remix of the Year contests running, but sadly no Request of the Year category this year. My goal was to deliver you just some eligible tracks for the Song of the Year portion; however, I'm now told that I'm also meant to do the same for remixes. So, on this episode of the Topical Resort, we'll be taking a look at some of the tracks you can vote for in both categories!

There'll still be more of an emphasis on the Song of the Year, and the plan is to try and play one song from EVERY game eligible, which there are lots of. As for remix, I'll play the Promo which contains a sample of every track, and handpick a few of my favourites from the poll to play you. Oh, and we'll be reading the news, but who cares about something as trivial as that.

As for the segments, we're saving both the Trivia Coast and Test Your Topicality for the special episode next week, so don't be expecting them now!

The topic for this episode is: RadioSEGA's Fan Choice 2018

Here's what's coming up on this week's episode:

Request Resort
Here's the list of games eligible for this week's Request Resort:
A Certain Magical Virtual-On
Bayonetta
Bayonetta 2
Crash Bandicoot: N-Sane Trilogy (SEGA published on Switch in Japan)
Disgaea 1 Complete
Disgaea 5 Complete
Dragon Crown Pro
Fist of the North Star: Lost Paradise
Hatsune Miku Project DIVA Future Tone DX (Includes all songs in original Future Tone)
Hatsune Miku VR Future Live
Persona 3: Dancing Moon Night
Persona 4: Dancing All Night
Persona 5: Dancing Star Night
Puyo Puyo eSports
Puyo Puyo Tetris
SEGA AGES (In-game music, Sonic 1, Thunder Force IV and Phantasy Star)
SEGA Mega Drive Classics (Only track is listed on the Playlist as "SEGA Vintage Collection - Main Theme (Streets of Rage 2)")
Shenmue 1+2
Shining Resonance Refrain (Includes all music from original Resonance)
SNK Heroines (SEGA published in Asia)
Sonic Mania Plus (Includes all songs from Sonic Mania)
Sonic Forces
Two Point Hospital
Valkyria Chronicles 4
Yakuza 0
Yakuza 3
Yakuza 6
Yakuza Kiwami 2

You can get in your requests for this segment over on Twitter (@RadioSEGA, @TopicalResort or @TheGreenViper8), you can send me a PM on our Discord server (radiose.ga/discord) or you can email me at topicalresort@gmail.com.

Discord Call-In
Got a burning question you'd like to ask? Got an opinion on anything said on the show? Maybe you just want to talk about anything to do with gaming. Either way, the Discord Call-in is a way to do that while actually getting your voice onto the show! You may be asking "How do you do this?", and it's very simple. Join our Discord Server by visiting radiose.ga/discord and from there, you'll need to grab a microphone and you'll need to join the Chillout Voice Room!

Got a song or remix you know to be worthy of a trophy, or at least a mention? Then why not tune in at 7PM GMT, 8PM CST, 2PM EST or 11AM PST?
22nd November, 2018 - 01:38 GMT
GreenViper8
Article viewed 249 times
Comments:
There are no comments for this article.
You need to be logged in to post a comment.
Please login using the boxes at the top of the page.




Requests between 15th Jul and 21st Jul







Replies: 29

Replies: 2427

Replies: 24

Replies: 5

Replies: 58

http://www.segadriven.com/
http://www.lastminutecontinue.com/
http://www.sonicstadium.org/
http://www.summerofsonic.com/
http://outrun86.wordpress.com/
https://www.facebook.com/groups/soniclondon/
https://twitter.com/cavernsofhope
http://16bap.theclassicgamer.net
http://www.sega-addicts.com
http://twitch.tv/thecorndogbandit
http://www.thedreamcastjunkyard.co.uk/
http://yakuzafan.com/
http://puyonexus.com/
http://segabits.com/
https://www.youtube.com/c/NintendoLounge