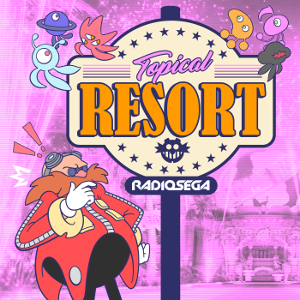 ---
This Week's Show Moved to Thursday Night
We're not going to beat around the bush with the title this week, be there or be too slow.
Something's happening this Friday, but I just... can't... put my finger on it. It's not Persona Dancing, and it's not Monster Boy, so it must be... SEGA Mega Drive Classics! To celebrate, here's a completely unrelated episode about SEGA crossovers.

The topic for this episode is: SEGA Crossovers

Here's what's coming up on this week's episode:

RadioSEGA LiVE Announcement
It's only a small one (seriously, nothing major, this isn't reverse psychology, I promise, really promise) but we have a show announcement to make! Plus, we've also got a bit of news about a LiVE show that's currently airing. We're going to be doing it during the first block, so get tuned into the show ASAP!

Request Resort
Here's the list of games eligible for this week's Request Resort:
Alex Kidd in Shinobi World
Christmas NiGHTS
Fighters Megamix
Fighting Vipers
Hyperdimension Neptunia VS SEGA Hard Girls
LEGO Dimensions
Mario & Sonic at the Olympic Games
Mario & Sonic at the Olympic Winter Games
Mario & Sonic at the London 2012 Olympic Games
Mario & Sonic at the Rio 2016 Olympic Games
Mario & Sonic at the Sochi 2014 Olympic Winter Games
Miracle Girls Festival
Project X Zone
Project X Zone 2
Puyo Puyo Tetris
SEGA Heroes
Sega GaGa
SEGA Superstars
SEGA Superstars Tennis
Sonic & All-Stars Racing Transformed
Sonic & SEGA All-Stars Racing
Sonic Lost World
Sonic Riders
Sonic Riders: Zero Gravity
Super Smash Bros. Brawl
Super Smash Bros. for Nintendo 3DS/Wii U
Super Smash Bros. Ultimate
Team Sonic Racing [Pre-release music]

You can get in your requests for this segment over on Twitter (@RadioSEGA, @TopicalResort or @TheGreenViper8), you can send me a PM on our Discord server (radiose.ga/discord) or you can email me at topicalresort@gmail.com.

Discord Call-In
Got a burning question you'd like to ask? Got an opinion on anything said on the show? Maybe you just want to talk about anything to do with gaming. Either way, the Discord Call-in is a way to do that while actually getting your voice onto the show! You may be asking "How do you do this?", and it's very simple. Join our Discord Server by visiting radiose.ga/discord and from there, you'll need to grab a microphone and you'll need to join the Chillout Voice Room!

Are you looking to find the most ambitious crossover event in history? Then why not tune in at 7PM GMT, 8PM CST, 2PM EST or 11AM PST?
5th December, 2018 - 16:09 GMT
GreenViper8
Article viewed 268 times
Comments:
There are no comments for this article.
You need to be logged in to post a comment.
Please login using the boxes at the top of the page.




Requests between 15th Jul and 21st Jul







Replies: 29

Replies: 2427

Replies: 24

Replies: 5

Replies: 58

http://www.segadriven.com/
http://www.lastminutecontinue.com/
http://www.sonicstadium.org/
http://www.summerofsonic.com/
http://outrun86.wordpress.com/
https://www.facebook.com/groups/soniclondon/
https://twitter.com/cavernsofhope
http://16bap.theclassicgamer.net
http://www.sega-addicts.com
http://twitch.tv/thecorndogbandit
http://www.thedreamcastjunkyard.co.uk/
http://yakuzafan.com/
http://puyonexus.com/
http://segabits.com/
https://www.youtube.com/c/NintendoLounge