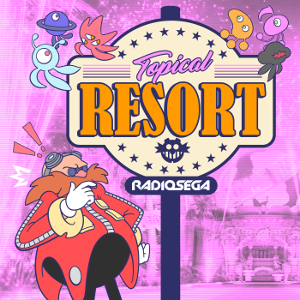 ---
A 2nd Birthday "Special"!
Now now, there's nothing special about playing the same soundtracks you always play...
The Resort turns 2 this weekend, and of course there's nothing like a good party. While there's no rhythm games involved this year (nor are there any hiatuses), we're focusing on a company which recently celebrated 10 years of released games, and we've got many great tunes to boot. Originally kicking off their career with a 4 game publishing deal from SEGA, they added a 5th before choosing to side with other companies. We'll mainly be focusing on their run with SEGA tonight, but expect some picks from the other great titles in their short history as we give the middle finger to Article 13 one last time. Strap yourselves in, because this time around we'll be focusing on a double birthday party and celebrating the life of Platinum Games.

The topic for this episode is: Platinum Games

Here's what's coming up on this week's episode:
Request Resort
Here's the list of games eligble for this week's Request Resort:
Anarchy Reigns
Bayonetta
Bayonetta 2
Infinite Space
MadWorld
Vanquish

You can get in your requests for this segment over on Twitter (@RadioSEGA, @TopicalResort or @TheGreenViper8), you can send me a PM on our Discord server (radiose.ga/discord) or you can email me at topicalresort@gmail.com.

Trivia Coast
The Trivia Coast is our weekly quiz show! Bring your knowledge along to win some prizes, and then brag to others that you know too much about SEGA! The 3 questions you will be asked all relate to the topic at hand, and Google is allowed, but is meant to be used as more of a tool rather than a way to guarantee you the answer. With that in mind, best of luck!
You can play along with the Trivia Coast by sending GreenViper8#6383 a private message with your answer on Discord!
Test Your Topicality
"Calm and thought-provoking discussions" are words that describe everything that Test your Topicality isn't! It's a frantic battle between 2 contestants to argue for or against a statement, and it's a stance that they may not necessarily agree with. It's messy, it's rough, but that's the fun of it all. Who will be in the hot-seat and what will they be arguing for? There's only one way to find out...
Feeling like you're better than the gold standard of games? Then why not consider tuning in at 7PM GMT, 8PM CET, 3PM EDT or 12PM PDT?
29th March, 2019 - 17:10 GMT
GreenViper8
Article viewed 357 times
Comments:
There are no comments for this article.
You need to be logged in to post a comment.
Please login using the boxes at the top of the page.




Requests between 18th May and 24th May







Replies: 1522

Replies: 181

Replies: 2

Replies: 838

Replies: 3660

http://www.segadriven.com/
http://www.lastminutecontinue.com/
http://www.sonicstadium.org/
http://www.summerofsonic.com/
http://outrun86.wordpress.com/
https://www.facebook.com/groups/soniclondon/
https://eccothedolphin.net/
http://16bap.theclassicgamer.net
http://www.sega-addicts.com
http://twitch.tv/thecorndogbandit
http://www.thedreamcastjunkyard.co.uk/
http://yakuzafan.com/
http://puyonexus.com/
http://segabits.com/
https://www.youtube.com/c/NintendoLounge
https://kngi.org/