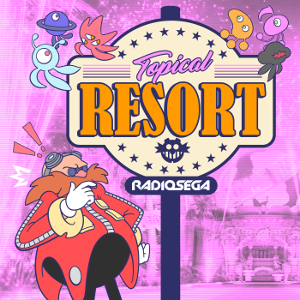 ---
This week's Topical Resort delayed
To not too far in the future, but exciting oppertunities await!
The episode of the Topical Resort meant to take place on the 10th at 7PM BST is being delayed as I was offered some work around that time as a sound technician, which was already going to be a bit of a handful, but they've also decided that I should be in-charge of a livestream for this event, so double the workload means double the setup which means no time for the Resort. I will still be seeing you this week however, so join me at 8PM BST on Sunday in the absense of SEGA Mixer Drive for this week's gripping episode!

I feel that now would also be a good time to mention that the show meant to take place on the 24th will also be delayed, this time because I'll be seeing a rarely seen friend for their birthday, so I'm hoping to air that episode Saturday at 7PM BST, but it's not set in stone yet and I'll keep you informed.

This week's episode is still going ahead despite the roadblocks however, and I think it's a cool one this time around, but I may need a small amount of help getting it ready!


The topic of this episode is: Golden Axe Remixed

Here's what's coming up on this week's show:

Request Resort
If you caught the Sonic 3 Remixed episode, you'd know the rough gist of how this show will work. If not though...
Official remixes and fan remixes are eligible
You may only request music from Golden Axe 1
We will attempt to dedicate each music break to a set of remixes of a specific track, although this time around that may be harder as not all Golden Axe songs are as well loved
AN IMPORTANT NOTE: Email requests are being moved over to a new address! I'll still be reading the old address for a few weeks after, but preferrably by the end of the month, I'd like you guys to permanently switch to using the new address. You'll now be able to message me in regards to the Topical Resort and any other RadioSEGA matters over at viper@radiosega.net.
Trivia Coast
The Trivia Coast is our weekly quiz show! Bring your knowledge along to win some prizes, and then brag to others that you know too much about SEGA! The 3 questions you will be asked all relate to the topic at hand, and Google is allowed, but is meant to be used as more of a tool rather than a way to guarantee you the answer. With that in mind, best of luck!
You can play along with the Trivia Coast by sending GreenViper8#6383 a private message with your answer on Discord!
Test Your Topicality
"Calm and thought-provoking discussions" are words that describe everything that Test your Topicality isn't! It's a frantic battle between 2 contestants to argue for or against a statement, and it's a stance that they may not necessarily agree with. It's messy, it's rough, but that's the fun of it all. Who will be in the hot-seat and what will they be arguing for? There's only one way to find out...
A fan of axes of various metals? Then why not consider tuning in at 8PM BST, 9PM CST, 3PM EDT or 12PM PDT?
9th May, 2019 - 18:59 GMT
GreenViper8
Article viewed 681 times
There are no comments for this article.
You need to be logged in to post a comment.
Please login using the boxes at the top of the page.