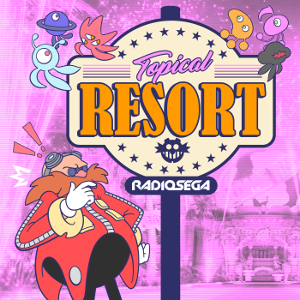 ---
Changing Channels
Sadly I won't be making any phone calls while using the SEGA Channel service or during this show...
All of these sellout gaming companies claim to have invented gaming rental services, when really it was all SE... nope that was actually GameLine, created by the company now known as AOL. The more you know! No matter how you look at it though, SEGA were the ones who introduced the concept to a wider audience, and although it might not have been financially successful, or long lived, the SEGA Channel certainly left an impact on consumers. That and they still figured out a better data plan than Google can in 2019! Oh, and re-re-release those exclusives now that the Wii Virtual Console is gone, pretty please?

The topic of this episode is: SEGA Channel

Here's what's coming up on this week's show:

Request Resort
Here's the list of games eligible for this week's Request Resort:
After Burner II
Aladdin [Mega Drive]
Alex Kidd in the Enchanted Castle
Alien Soldier
Alien Storm
Altered Beast
Arrow Flash
Batman Returns
Beyond Oasis
Bonanza Bros
Castle of Illusion Starring Mickey Mouse
Chiki Chiki Boys
Columns
Comix Zone
Comix Zone Page 2
Crack Down
Decap Attack
Desert Strike
Dr. Robotnik's Mean Bean Machine
Dynamite Headdy
Earthworm Jim
Earthworm Jim 2
Ecco the Dolphin
Ecco: The Tides of Time
Ecco Jr
Eternal Champions
Fatal Fury
Galaxy Force II
Garfield: Caught in the Act
Garfield: The Lost Levels
Ghouls 'n Ghosts
G-Loc: Air Battle
Golden Axe
Golden Axe II
Golden Axe III
Greendog
Gunstar Heroes
Hard Drivin
Jungle Strike
Kid Chameleon
Klax
Landstalker: The Treasures of King Nole
Mega Bomberman
Mega Man: The Wily Wars
Mega Turrican
Mortal Kombat
Mortal Kombat 3
Mystic Defender
OutRun
OutRun 2019
OutRunners
Phantasy Star II
Phantasy Star III
Phantasy Star IV
Pulseman
Quackshot
Revenge of Shinobi
Ristar
Road Rash
Road Rash II
Road Rash III
Rocket Knight Adventures
Shining Force
Shining Force II
Shining in the Darkness
Shinobi III: Return of the Ninja Master
Sonic & Knuckles
Sonic 3D Blast
Sonic Spinball
Sonic the Hedgehog
Sonic the Hedgehog 2
Sonic the Hedgehog 3
Space Harrier II
Sparkster
Streets of Rage
Streets of Rage 2
Streets of Rage 3
Strider
Strider Returns
Super Hang-On
Super Monaco GP
Super Street Fighter II
Super Thunder Blade
Sword of Vermillion
The Adventures of Batman and Robin
The Ooze
ToeJam & Earl
ToeJam & Earl: Panic on Funkotron
Vectorman
Vectorman 2
Virtua Fighter 2
World of Illusion Starring Mickey Mouse and Donald Duck

You can get in your requests for this segment on Twitter (@RadioSEGA, @TopicalResort or @TheGreenViper8), Discord (radiose.ga/discord) or via email (viper@radiosega.net).

Trivia Coast
The Trivia Coast is our weekly quiz show! Bring your knowledge along to win some points, and then brag to others that you know too much about SEGA! The 3 questions you will be asked all relate to the topic at hand, and Google is allowed, but use it as a tool in your arsenal rather than the key to your victory. With that in mind, best of luck to those who will enter!

You can play along with the Trivia Coast by sending GreenViper8#6383 a private message with your answer on Discord!



Are you and your internet feeling brave enough to enter the world of digital distribution? The doors to the Topical Resort open at 7PM BST, 8PM CST, 2PM EDT or 11M PDT.
26th June, 2019 - 17:25 GMT
GreenViper8
Article viewed 354 times
Comments:
There are no comments for this article.
You need to be logged in to post a comment.
Please login using the boxes at the top of the page.




Requests between 6th Jan and 12th Jan







Replies: 8

Replies: 4

Replies: 34

Replies: 1470

Replies: 55

http://www.segadriven.com/
http://www.lastminutecontinue.com/
http://www.sonicstadium.org/
http://www.summerofsonic.com/
http://outrun86.wordpress.com/
https://www.facebook.com/groups/soniclondon/
https://twitter.com/cavernsofhope
http://16bap.theclassicgamer.net
http://www.sega-addicts.com
http://twitch.tv/thecorndogbandit
http://www.thedreamcastjunkyard.co.uk/
http://yakuzafan.com/
http://puyonexus.com/
http://segabits.com/
https://www.youtube.com/c/NintendoLounge
https://kngi.org/