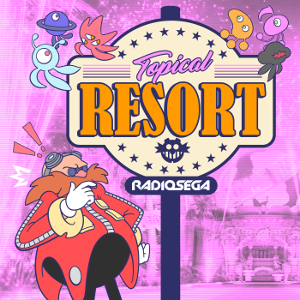 ---
Topical Resort Turns 100
100 down, X to go...
100 episodes, who could believe it? Well, time itself, even if it is just a construct created by man, just like our little show that's now 100. We could do the usual celebratory episode, but we did that for the 50th and other similar landmarks. I plan on having this season's 50th episode and the final one of the season dedicated to subjects that I want to cover, so it's probably only fair that I let you guys have this one. You've HEAVILY requested this one, and by you I mean one gamer hailing from a certain set of isles. The general idea I'm getting though is that the rest of you would enjoy this too, since you always seem to want the music and the words exchanged whenever the prospect of this topic is brought up are pretty inspiring. Enough cryptic talk, I already told you what this is about, or should I say who...

The topic of this episode is: Tee Lopes

Here's what's coming up on this week's show:

Request Resort
Pinpointing games for this segment is a tad difficult, because well... there aren't really all that many. You've of course got Sonic Mania and Sonic Mania Adventures (but no Plus please!), as well as a bit of Team Sonic Racing (sick of it yet?) on the side, but what remains aside from that? Bits and bobs really. You've got some Monster Boy and the Cursed Kingdom, quite a bit of non-SEGA stuff and a bunch of misc remixes, so I might as well let you grab from all of those bags too! Now get in those requests down below.
Trivia Coast
The Trivia Coast is our weekly quiz show! Bring your knowledge along to win some points, and then brag to others that you know too much about SEGA! The 3 questions you will be asked all relate to the topic at hand, and Google is allowed, but use it as a tool in your arsenal rather than the key to your victory. With that in mind, best of luck to those who will enter!
You can play along with the Trivia Coast by sending GreenViper8#6383 a private message with your answer on Discord!
Test Your Topicality
"Calm and thought-provoking discussions" are words that describe everything that Test your Topicality isn't! It's a frantic battle between 2 contestants to argue for or against a statement, and it's a stance that they may not necessarily agree with. It's messy, it's rough, it's all a bit of fun. Who will be in the hot-seat and what will they be arguing for? There's only one way to find out...
Got another cake at the ready? The doors to this special edition of the Topical Resort open at 7PM BST, 8PM CST, 2PM EDT or 11M PDT.



PS: This is the 5th time I've tried to write this article. I want to give no thanks to my broadband provider, my phone logging me out of the site, my phone's signal cutting out and weird formatting issues.
7th June, 2019 - 12:46 GMT
GreenViper8
Article viewed 372 times
Comments:
There are no comments for this article.
You need to be logged in to post a comment.
Please login using the boxes at the top of the page.




Requests between 6th Jul and 12th Jul







Replies: 629

Replies: 843

Replies: 7

Replies: 69

Replies: 1535

http://www.segadriven.com/
http://www.lastminutecontinue.com/
http://www.sonicstadium.org/
http://www.summerofsonic.com/
http://outrun86.wordpress.com/
https://www.facebook.com/groups/soniclondon/
https://eccothedolphin.net/
http://16bap.theclassicgamer.net
http://www.sega-addicts.com
http://soniccagedome.net/
http://twitch.tv/thecorndogbandit
http://www.thedreamcastjunkyard.co.uk/
http://yakuzafan.com/
http://puyonexus.com/
http://segabits.com/
https://www.youtube.com/c/NintendoLounge
https://kngi.org/