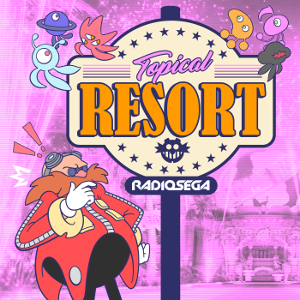 ---
Have I Finally Mastered the System?
Have I geared myself up to game?
You might have heard it at the end of the last episode, but if you didn't: This week's Topical Resort is the season finale, whoop! Anyway, about that topic at hand...

The Master System was my introduction to SEGA but also gaming as a whole, so it's something that holds a little bit of a special place in my heart. It's for this reason that this episode will be incredibly biased towards the Master System, so much so that it was originally only going to be about the console, but I know that I would've been pestered until I gave the Game Gear some love anyway. There's some exclusives to both consoles, but for the most part, we'll be focusing on cross platform releases since there's so many of them, I guess that's what happens when you make your handheld an enhanced version of your home console. Either way, there'll be some great FM, but mainly a whole lot of PSG goodness!

The topic of this episode is: Master System/Game Gear

Here's what's coming up on this week's show:

Request Resort
Here's the list of games eligible for this week's Request Resort:
Action Fighter
Aerial Assault
After Burner
Air Rescue [Master System]
Alex Kidd in Miracle World
Alex Kidd in Shinobi World
Alex Kidd: High-Tech World
Alex Kidd: The Lost Stars
Alien 3 [Master System]
Alien Storm [Master System]
Alien Syndrome [Master System]
Altered Beast [Master System]
Astro Warrior
Ayrton Senna's Super Monaco GP II [Master System/Game Gear]
Battle OutRun
Bomber Raid
Bonanza Bros
Bubble Bobble
California Games
California Games 2
Castle of Illusion Starring Mickey Mouse [Master System]
Choplifter
Columns [Master System]
Cool Spot [Master System]
Cyber Police ESWAT [Master System]
Daffy Duck in Hollywood
Darius II
Deep Duck Trouble Starring Donald Duck
Disney's Aladdin [Master System]
Double Dragon [Master System]
Dr. Robotnik's Mean Bean Machine [Game Gear]
Dynamite Duke [Master System]
Dynamite Dux [Master System]
Dynamite Headdy [Game Gear]
Ecco the Dolphin [Master System]
Fantasy Zone [Master System]
Fantasy Zone II: The Tears of Opa-Opa
Fantasy Zone Gear
Fantasy Zone: The Maze
G-LOC: Air Battle [Master System]
Gain Ground [Master System]
Galaxy Force [Master System]
Gangster Town
Gauntlet [Master System]
Ghostbusters [Master System]
Ghouls'n Ghosts [Master System]
Flicky [Master System]
Golden Axe [Master System]
Golden Axe Warrior
Hang-On [Master System]
Lemmings [Master System]
Marble Madness [Master System]
Michael Jackson's Moonwalker [Master System]
Mortal Kombat [Master System]
Ms. Pac-Man [Master System]
Ninja Gaiden [Master System]
OutRun [Master System]
OutRun 3D
OutRun Europa
Pac-Mania [Master System]
Paperboy [Master System]
Phantasy Starring
Power Strike
Power Strike II [Master System]
Psycho Fox
Quartet
R-Type
Rainbow Islands: The Story of Bubble Bobble 2
Rambo III [Master System]
Rampage
Road Rash [Master System]
RoboCop 3
Safari Hunt
SEGA Chess
Shinobi [Master System]
Sonic Chaos
Sonic Spinball [Game Gear]
Sonic the Hedgehog [Master System]
Sonic the Hedgehog 2 [Master System]
Sonic Triple Trouble
Space Harrier [Master System]
Space Harrier 3D
Spy vs Spy
Streets of Rage [Master System]
Streets of Rage 2 [Master System]
Streets of Rage 3 [Master System]
Strider [Master System]
Strider 2 [Master System]
Super Monaco GP [Master System]
Tazmania [Master System]
Teddy Boy Blues
The Cyber Shinobi
The NewZealand Story
TransBot
Wonder Boy
Wonder Boy III: The Dragon's Trap
Wonder Boy in Monster Land
Wonder Boy in Monster World
Zaxxon 3D
Zillion
Zillion II
Zool

(There's over 100 games in that list, yes I know that it's far from complete, please don't tell me!)

You can get in your requests for this segment on Twitter (@RadioSEGA, @TopicalResort or @TheGreenViper8), Discord (radiose.ga/discord) or via email (viper@radiosega.net).

Trivia Coast
The Trivia Coast is our weekly quiz show! Bring your knowledge along to win some points, and then brag to others that you know too much about SEGA! The 3 questions you will be asked all relate to the topic at hand, and Google is allowed, but use it as a tool in your arsenal rather than the key to your victory. With that in mind, best of luck to those who will enter!

You can play along with the Trivia Coast by sending GreenViper8#6383 a private message with your answer on Discord!



Ready for one last trip before the Resort closes for the summer? The doors to the Topical Resort open at 7PM BST, 8PM CST, 2PM EDT or 11M PDT.
3rd July, 2019 - 20:09 GMT
GreenViper8
Article viewed 454 times
Comments:
There are no comments for this article.
You need to be logged in to post a comment.
Please login using the boxes at the top of the page.




Requests between 6th Jan and 12th Jan







Replies: 8

Replies: 4

Replies: 34

Replies: 1470

Replies: 55

http://www.segadriven.com/
http://www.lastminutecontinue.com/
http://www.sonicstadium.org/
http://www.summerofsonic.com/
http://outrun86.wordpress.com/
https://www.facebook.com/groups/soniclondon/
https://twitter.com/cavernsofhope
http://16bap.theclassicgamer.net
http://www.sega-addicts.com
http://twitch.tv/thecorndogbandit
http://www.thedreamcastjunkyard.co.uk/
http://yakuzafan.com/
http://puyonexus.com/
http://segabits.com/
https://www.youtube.com/c/NintendoLounge
https://kngi.org/