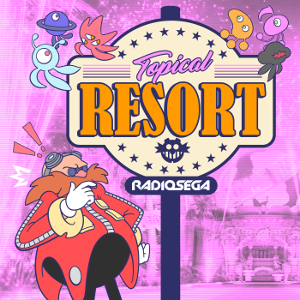 ---
Topical Resort Returns for a Special Episode This Saturday
For one night only, the Topical Resort is back!
Back during Season 2 of the Topical Resort, I made a promise. That promise being that I would host an episode of the show dedicated to SEGA AGES when the line officially came to an end. Who knew that it would only be 2 years later, and that I'd be hosting a completely different show?

Still, a promise is a promise, so let's get topical once more in comemoration of the end of an amazing line of SEGA ports!

Also just a quick note, I know this episode was originally advertised to be airing on Friday night, but sadly a flurry of personal circumstances have come up which means this episode will need to be pushed back to Saturday night. I hope it will be worth the wait.

The topic of this episode is: SEGA AGES [Switch]

Here's what's coming up on this week's show:

Request Resort
Here's the list of games eligible for this week's Request Resort:
Alex Kidd in Miracle World [Switch]
Columns II
Fantasy Zone [Arcade]
G-LOC: Air Battle
G-LOC Air Battle -Series Music Collection-
Gain Ground
Herzog Zwei
Herzog Zwei [Switch]
Ichidant-R
OutRun [Switch]
Phantasy Star
Puyo Puyo [Arcade]
Puyo Puyo Tsuu [Arcade]
SEGA AGES [Switch]
Shinobi [Arcade]
Sonic the Hedgehog [16-Bit]
Sonic the Hedgehog 2 [16-Bit]
Space Harrier [Arcade]
Thunder Force AC
Thunder Force IV
Virtua Racing [Switch]
Wonder Boy in Monster Land

You can get in your requests for this segment on Twitter (@RadioSEGA, @TopicalResort or @TheGreenViper8), Discord (radiose.ga/discord) or via email (viper@radiosega.net).

Trivia Coast
The Trivia Coast is our weekly quiz show! Bring your knowledge along to win some points, and then brag to others that you know too much about SEGA! The 3 questions you will be asked all relate to the topic at hand, and Google is allowed, but use it as a tool in your arsenal rather than the key to your victory. With that in mind, best of luck to those who will enter!

You can play along with the Trivia Coast by sending GreenViper8#6383 a private message with your answer on Discord!



Prepared for another last trip to the Resort? The doors to the Topical Resort open this Saturday at 7PM BST, 8PM CST, 2PM EDT or 11M PDT.
4th September, 2020 - 12:04 GMT
GreenViper8
Article viewed 673 times
Comments:
There are no comments for this article.
You need to be logged in to post a comment.
Please login using the boxes at the top of the page.




Requests between 21st Sep and 27th Sep







Replies: 72

Replies: 151

Replies: 2

Replies: 39

Replies: 634

http://www.segadriven.com/
http://www.lastminutecontinue.com/
http://www.sonicstadium.org/
http://www.summerofsonic.com/
http://outrun86.wordpress.com/
https://kngi.org/
https://eccothedolphin.net/
http://16bap.theclassicgamer.net
http://www.sega-addicts.com
http://soniccagedome.net/
http://twitch.tv/thecorndogbandit
http://www.thedreamcastjunkyard.co.uk/
http://yakuzafan.com/
http://puyonexus.com/
http://segabits.com/
https://www.youtube.com/c/NintendoLounge