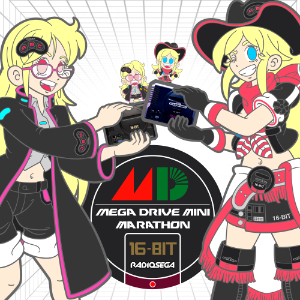 ---
Results and Prizes Ahead
It's time to reveal the best of the best, including one lucky winner.
The time has come at last for the almost final show of our month-long celebration of SEGA's brand new mini console.
During the past few weeks, you've nominated your favourite tracks and then voted for the ones that made it into the final poll and we are so very close to revealing the results.
Join me tomorrow for RadioSEGA's Top 40 Countdown - Mega Drive Mini Edition, when I'll be playing all 40 tracks plus some extra tunes and ALSO revealing who is the winner of our grand prize - one Mega Drive or Genesis Mini from a region of choice.
But wait, there's still time to influence the outcome of both of these breathtaking events. How?
You still have a few hours left to vote for the 20 tracks that you consider to be the absolute best of the list by going here.
Check out this post for instructions on how to take part in our competition and maybe you'll have a chance of winning a brand new Mega Drive/Genesis Mini. Entries close the second RadioSEGA's Top 40 Countdown starts, so that's 8pm BST on October 3rd. And don't forget that you can enter regardless of where you are in the world. We're nice like that. :)
I'd say you have more than enough reasons to tune in to RadioSEGA's Top 40 Countdown - Mega Drive Mini Edition, airing LiVE this Thursday, October 3rd at 8pm BST (9pm CEST/3pm EDT/12pm PDT). See you then!
3rd October, 2019 - 00:11 GMT
KC
Article viewed 274 times
Comments:
There are no comments for this article.
You need to be logged in to post a comment.
Please login using the boxes at the top of the page.




Requests between 10th Feb and 16th Feb







Replies: 1

Replies: 2513

Replies: 826

Replies: 0

Replies: 0

http://www.segadriven.com/
http://www.lastminutecontinue.com/
http://www.sonicstadium.org/
http://www.summerofsonic.com/
http://outrun86.wordpress.com/
https://www.facebook.com/groups/soniclondon/
https://twitter.com/cavernsofhope
http://16bap.theclassicgamer.net
http://www.sega-addicts.com
http://twitch.tv/thecorndogbandit
http://www.thedreamcastjunkyard.co.uk/
http://yakuzafan.com/
http://puyonexus.com/
http://segabits.com/
https://www.youtube.com/c/NintendoLounge
https://kngi.org/