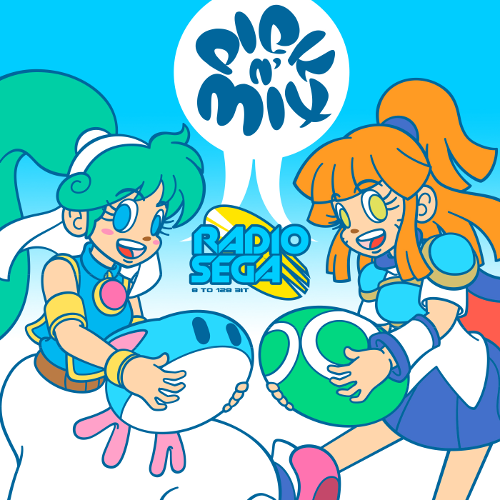 ---
Dishing out the Damage
Planes, mechs and fists duking it out tonight, with a backing track provided by a world famous diva!
SEGA have been on the ball with new releases lately, so much so that a Recent Release Roundup is in order! This is where we look at all of the new titles that have been released in the past few weeks (or those we have the music to anyway!) and feature them front and centre. As well as putting their music on display, we'd like to know what you think about the games list featured below if you've had the chance to play them!

Here's this week's Picks:
Hatsune Miku: Project DIVA MegaMix (Hatsune Miku -Project DIVA- Mega 39's) DLC Packs 4, 5 and 6
Sakura Wars (Shin Sakura Wars)
SEGA AGES G-LOC: Air Battle
Streets of Rage 4 (Bare Knuckle IV)

Here's the segments coming up on this week's show:

Code Breakers
A new type of game show for RadioSEGA, revolving around your conundrum skills rather than your knowledge. The rules could completely flip on their head, so for now you're looking to solve 3 anagrams of song titles from the games featured. You've been doing pretty good so far, but we'll see if you can keep up with this week's conundrums!

Where YOU Come into the Mix
As always, I'm looking for your input on this show. If you've got any thoughts to share on the featured Picks or have some music to request, get in touch on Twitter (@RadioSEGA) or via email (viper@radiosega.net) and you'll be sure to be featured.

Bring your game cases (or SD cards) this Friday at 7PM BST, 8PM CEST, 2PM EDT or 11AM PDT!
1st May, 2020 - 12:21 GMT
GreenViper8
Article viewed 183 times
Comments:
There are no comments for this article.
You need to be logged in to post a comment.
Please login using the boxes at the top of the page.




Requests between 25th May and 31st May







Replies: 56

Replies: 0

Replies: 1522

Replies: 181

Replies: 2

http://www.segadriven.com/
http://www.lastminutecontinue.com/
http://www.sonicstadium.org/
http://www.summerofsonic.com/
http://outrun86.wordpress.com/
https://www.facebook.com/groups/soniclondon/
https://eccothedolphin.net/
http://16bap.theclassicgamer.net
http://www.sega-addicts.com
http://twitch.tv/thecorndogbandit
http://www.thedreamcastjunkyard.co.uk/
http://yakuzafan.com/
http://puyonexus.com/
http://segabits.com/
https://www.youtube.com/c/NintendoLounge
https://kngi.org/