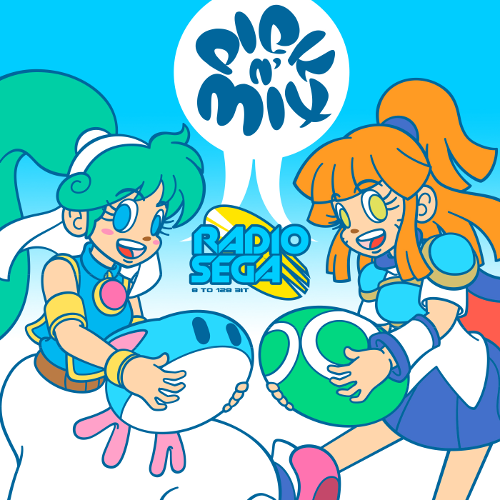 ---
Winter Warmup
Ahead of Season 2 premiering during next week's WinterFest event, let's have a look at what's in store during the special episode!
It's been a while, but it's almost time for Pick n' Mix's return! Instead of leaving you in the dark until it's time to go to air, I thought it'd be nice to share a first look at what's to come during our WinterFest special, but also a hint at what the rest of the year could look like on the show.

Here's a tease of what's to come during the winter season:

Wait! It's Evolving!
King of Requesters becomes... ???. It's the same segment you know and love, but with a highly requested new coat of paint.

A New Test of Skills
For the next few weeks, we're going to be running a brand new game segment! Now now, I know Code Breakers is still beloved, so don't you worry as it's not going anywhere! But while we've got festivities underway and prizes to give, why not shake it up a little bit?

Stories Around the Dumpsterfire
During our WinterFest episode and possibly during a TBA episode, we'll be going over some WinterFest history, and what better way to start things off than with how this year's event came to be? We'll also be clearing up some of the mysteries surrounding the teasing and the "slip ups" that happened before the event. Tea will be spilt, so be sure to not wear white.

The Season For Giving
As mentioned above, we've got prizes and it's safe to assume that the game segment is how you win said prizes... and well, you're somewhat right. Prizes will be raffled off, but the brand new game isn't the only way to win raffle tickets. I shall leave that and the prize itself up to your imagination however...

The Season For Giving To Me As Well
It's great that I'm dishing out these prizes to you guys, but I want something back in return. I want to hear some of your favourite SEGA winter tunage throughout the show, so why not send me your requests ahead of time? You can get in touch on Twitter (@RadioSEGA), via Discord (DM GreenViper8#6383) or via email (viper@radiosega.net).


And to think, that's just a taster of what's going to be featured on Series 2 of Pick n' Mix! There's still plenty more TBA, so you're not going to want to miss it when Pick n' Mix returns to the RadioSEGA airwaves on the 19th of December at 6PM BST, 7PM CEST, 1PM EDT or 10AM PDT during this year's WinterFest. Hope to see you there!
13th December, 2020 - 19:59 GMT
GreenViper8
Article viewed 286 times
Comments:
There are no comments for this article.
You need to be logged in to post a comment.
Please login using the boxes at the top of the page.




Requests between 11th Jan and 17th Jan







Replies: 181

Replies: 167

Replies: 39

Replies: 3

Replies: 4

http://www.segadriven.com/
http://www.lastminutecontinue.com/
http://www.sonicstadium.org/
http://www.summerofsonic.com/
http://outrun86.wordpress.com/
https://kngi.org/
https://eccothedolphin.net/
http://16bap.theclassicgamer.net
http://www.sega-addicts.com
http://soniccagedome.net/
http://twitch.tv/thecorndogbandit
http://www.thedreamcastjunkyard.co.uk/
http://yakuzafan.com/
http://puyonexus.com/
http://segabits.com/
https://www.youtube.com/c/NintendoLounge
https://dreamcastyears.co.uk/