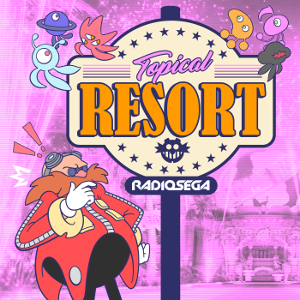 ---
We're Back Tonight at 6PM BST!
This week's show rescheduled to tonight (Sunday the 16th of June)
For those of you not on our Discord server, you wouldn't have caught the various announcements relating to the Topical Resort, and at no fault of your own. This week's been a hectic one for me in a complicated spaghetti mess of ways. I've been running around back and forth getting paperwork for my job ready, had some bad personal news on Wednesday, and to top it all off I lost the majority of my PC's main hard drive, destroying a lot of RadioSEGA documents with it. That last one was the dagger through Friday night's show, meaning I lost a lot of show assets which I have since recovered, but the recovery process on that night lasted until well after the show was intended to finish, making still hosting it impossible. On top of the mental stress it's all put me under, desperately trying to recover years of important memories absolutely wiped me out and meant that while I let my PC do the work for me, I lay back in bed most of the day while I tried to sort the files. I was already flagging on Friday morning and if I had done a show, the quality would've been dreadful and not something I want to show to you guys.
All of these reasons are why I also postponed the SEGA Channel episode, I don't really want to halfheartedly put out an episode which I'm really looking forward to making, but I'd rather patiently wait it out and deliver an episode which I'm proud of to you guys. I decided to talk about E3 this week because I can and therefore I will. I know it's a bit cliche, but I hope you guys can appreciate it anyway despite it being a lower maintainence episode than usual. With that in mind, I'll catch you at 6PM BST (2 hours before SEGA Mixer Drive) or whatever that translates to for you!
16th June, 2019 - 18:38 GMT
GreenViper8
Article viewed 327 times
Comments:
There are no comments for this article.
You need to be logged in to post a comment.
Please login using the boxes at the top of the page.




Requests between 13th Jan and 19th Jan







Replies: 819

Replies: 0

Replies: 625

Replies: 3

Replies: 9

http://www.segadriven.com/
http://www.lastminutecontinue.com/
http://www.sonicstadium.org/
http://www.summerofsonic.com/
http://outrun86.wordpress.com/
https://www.facebook.com/groups/soniclondon/
https://twitter.com/cavernsofhope
http://16bap.theclassicgamer.net
http://www.sega-addicts.com
http://twitch.tv/thecorndogbandit
http://www.thedreamcastjunkyard.co.uk/
http://yakuzafan.com/
http://puyonexus.com/
http://segabits.com/
https://www.youtube.com/c/NintendoLounge
https://kngi.org/